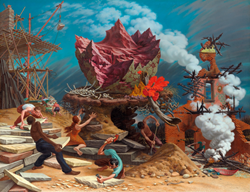 Politically-engaged and willing to tackle difficult subjects, Blume was among the first Americans to use Surrealist methods, but remained independent of groups all of his life. His work will be a revelation to viewers.
Philadelphia, PA (PRWEB) September 30, 2014
The Pennsylvania Academy of the Fine Arts (PAFA) presents Peter Blume: Nature and Metamorphosis, the first retrospective of the American modernist Peter Blume (1906-1992) since 1976, on view November 14, 2014 – April 5, 2015.
"Nature and Metamorphosis" will dazzle and surprise with gorgeous allegorical paintings and virtuoso drawings that explore rebirth and transformation. The retrospective will include 159 objects, including 56 paintings and 103 drawings from 1924 through 1990, spanning Peter Blume's entire career. From jarring early works inspired by the machine age and growth of cities through profound ruminations on the power of nature, Blume's work helped define American modernism. The retrospective is curated by Robert Cozzolino, PAFA Senior Curator and Curator of Modern Art.
"This is the first opportunity to see the full breadth of the work of an iconoclastic 20th century American master in nearly 40 years. So much has happened in the art world and in American art scholarship in that time that this opportunity to look in depth at Peter Blume's career and work will be fascinating and rewarding to both Museum visitors and scholars," says Harry Philbrick, the Edna S. Tuttleman Director of the Museum.
While best known as a painter, Blume was a virtuoso, dynamic draftsman, and his drawings show a dynamic, surprising range. Several focus sections in the exhibition will reveal Blume's working methods, tracing the development of ideas in extraordinary, dynamic drawings and small paintings leading up to major works. Among the works featured are "South of Scranton" (1930-31), which caused a scandal when it won first prize at the 1934 Carnegie International; "The Eternal City" (1934-37), Blume's notorious anti-fascist political work; "The Rock" (1944-48), a dramatic allegory of the creative and destructive capacity of nature; and "Tasso's Oak" (1957-60), Blume's largest painting, inspired by Italy, and not seen in public since 1961.
"Blume was critical to the development and reception of modernism in America. His work played a key role in disseminating avant-garde ideas in the U.S. art world using a method that resembled Flemish art transposed through the lens of Cubism and the unconscious. Politically-engaged and willing to tackle difficult subjects, Blume was among the first Americans to use Surrealist methods, but remained independent of groups all of his life. His work will be a revelation to viewers; he made some of the most startling and absorbing paintings of the 20th century," says Robert Cozzolino.
A European émigré, Blume was born into a Russian Jewish family that came to the U.S. from what is now Belarus. He studied at New York's Educational Alliance Art School alongside Chaim Gross and the Soyer brothers who formed his first close artistic circle. Later, he studied briefly at the Art Students League where he befriended Alexander Calder. By the age of 18, Blume was exhibiting professionally at one of the leading modernist galleries in the country, and was deeply immersed in the creative life of Greenwich Village in New York City. After 1930, Blume lived in Sherman, Connecticut, where he was eventually in the center of a community that included Surrealist artists who came to the U.S. during World War II.
Between 1939 and 1966, Blume exhibited in PAFA's annual exhibitions of contemporary art eight times, and in 1953 he served as a juror. Nature and Metamorphosis will consider the political background of Blume's imagery, as well as his relationships with an international community of artists and writers. A hallmark of Blume's work from all periods of his career is its capacity to carry multivalent meanings, always rooted in human experience, but privileging the transformative power of the imagination.
A fully illustrated catalogue edited by Robert Cozzolino accompanies the retrospective, with essays by Cozzolino on "The Rock," surrealism, and automatism; a piece by Samantha Baskind on Blume's early intellectual circles and his Jewish identity; Sergio Cortesini on "The Eternal City" and its reception both in the U.S. and Fascist Italy; David McCarthy on Fracture Ward and the U.S. army's patronage of artists during World War II; Sarah Vure on Blume's place in early modernism; and new perspectives on "Tasso's Oak" and "South of Scranton" (1930-31). An edited, previously unpublished interview with Blume and a selection of the artist's writings will shed light on Blume's enduring legacy in the postwar world.
"Peter Blume: Nature and Metamorphosis" will travel to the Wadsworth Atheneum, where it will be on view July 3 – September 20, 2015.
The exhibition's presenting foundation sponsor is the Henry Luce Foundation. Major support provided by the Boris Lurie Art Foundation. Additional funding provided by grants from the National Endowment for the Arts, the Wyeth Foundation for American Art, and the Armand G. Erpf Fund, with additional support from Eric Brecher, and Mr. Jason Schoen.
EXHIBITION-RELATED PROGRAMS:
PAFA is hosting a variety of exhibition-related programs. A selection of programs is listed below; full list to be announced soon.
CURATORIAL LECTURE: PETER BLUME
December 2, 2014, 7-8 p.m.
Curator Robert Cozzolino introduces Peter Blume's career as a significant American modernist
and narrative painter. Blume's large-scale works often highlight themes of creative process, regeneration, political power, and cultural memory in mid-century America. (This program is preceded by a members-only talk.)
FAMILY ARTS ACADEMY: NATURE TRANSFORMS
November 23, 2014, 2-4 p.m.
Using an accordion book-folding process, transform nature right before your eyes. Inspired by Peter Blume, fold and draw a seasonal art book.
"MAGIC REALISM" AND MODERNISM: AN INTERNATIONAL SYMPOSIUM
March 20, 2015
Held in conjunction with the special exhibition "Peter Blume: Nature and Metamorphosis." Details to be announced soon.
###
Founded in 1805, the Pennsylvania Academy of the Fine Arts (PAFA) is America's first School of Fine Arts and Museum. A recipient of the 2005 National Medal of Arts presented by the President of the United States, PAFA is a recognized leader in Fine Arts education. Nearly every major American artist has taught, studied, or exhibited at PAFA. The institution's world-class collection of American art continues to grow and provides what only a few other art institutions in the world offer: the rare combination of an outstanding Museum and an extraordinary faculty known for its commitment to students and for the stature and quality of its artistic work.