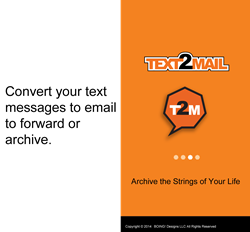 Archive the Strings of Your Life.
Wilsonville, Oregon (PRWEB) September 30, 2014
Text2Mail™ closes the last gap in documenting professional and personal communications – Text Messages. Text2Mail (T2M) is a simple tool which will archive text (SMS) message strings by conversion to email to send and store. Perfect for professionals: Doctors, Attorneys, Realtors, Executives, Developers, Media Members, etc... anyone who needs to document their text message communications.
With just a few touches Text2Mail will create an email message including an entire string of selected text messages. The email message is sent to default email addresses, or additional recipients can be added. Simple check boxes allow the inclusion of select messages, entire strings, or multiple strings compiled into one message. The date and time of the text message, as well as the sender and recipient of the text message are included in the email.
"I use text messages with my clients, and Text2Mail allows me to quickly document communications."
-John Davis, Coldwell Banker Real Estate, LLC.
Text2Mail can archive all text messages so important communications are never lost.
Website: http://www.Text2Mail-App.com
Dropbox: http://bit.ly/Text2Mail-Dropbox
Google Play: https://play.google.com/store/apps/details?id=com.azkinet.smsbackup&hl=en
Media Contact
Bill Hayhurst
billh(at)boingdesigns(dot)com
Twitter: @BOINGDesigns, @Text2Mail
503-299-6805