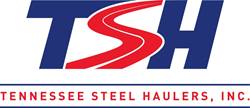 We are excited to launch our completely revamped website to better serve our clients and drivers.
Nashville, TN (PRWEB) September 30, 2014
Tennessee Steel Haulers, in conjunction with Horton Group, is pleased to announce the launch of their newly designed website http://www.tenh.com. With a streamlined and user-friendly design, the website makes it easy for visitors to discover the company's vast array of logistics services.
"We are excited to launch our completely revamped website to better serve our clients and drivers," said Craig Stanley, VP of Sales.
When visitors arrive at the new Tennessee Steel Haulers' website, they are welcomed by a vibrant and colorful slideshow, featuring photos of the company's incredible employees. In addition, the website features a detailed map of the Tennessee Steel Haulers' various locations as well as a slew of information about the company's services, mission and story.
One of the most notable characteristics of the website is a page devoted to giving customers up-to-date information about available freight. Users simply enter in their desired locations and instantly receive the information they are looking for. Also, aspiring truckers or those simply looking to make the switch to a new company can easily apply on the website.
Tennessee Steel Haulers seeks to build long-term relationships for the mutual benefit of its customers and communities it serves by becoming not a just a trucking company, but a trucking family. The company offers a variety of logistics services to customers across the country, including storage and warehousing, custom logistics solutions, international service and more.
To learn more about Tennessee Steel Haulers and the company's superior logistics services, visit http://www.tenh.com.
About Tennessee Steel Haulers
Tennessee Steel Haulers is a flatbed logistics company based in Nashville, TN. Established in 1976, the company has come to be known as one of the most respected and dependable long and short haul trucking companies in the nation. With a fleet over 500 drivers, the company has the experience needed to handle any logistics challenge. Visit http://www.tenh.com to learn more about the company's world-class logistics services.