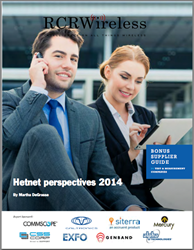 With up to 80% of mobile data consumption occurring indoors, carriers cannot retain customers who do not get good in-building coverage. - Martha DeGrasse
Austin, Texas (PRWEB) September 30, 2014
RCR Wireless News is pleased to announce publication of 'HetNet Perspectives 2014.' HetNets are heterogeneous networks, and mobile operators create them by deploying small cells and distributed antennas in dense urban areas or in crowded buildings.
In preparing this report, RCR Wireless gathered insights from top executives at American Tower, Ericsson, Alcatel-Lucent, CommScope, Genband, Accruent, TE Connectivity, Galtronics and a number of other companies, as well as from leading analysts who cover wireless technology. The report discusses distributed antenna systems (DAS), small cells, and integrated Wi-Fi. All of these solutions will be needed by mobile operators to meet the demand for mobile data.
"Heterogeneous networks create a homogenous experience for the mobile customer," said report author Martha DeGrasse. "By combining different vendor equipment, new platforms and multiple frequencies, mobile operators are able to maintain connections for their customers, even in areas that are hard for cell tower signals to reach."
Public venues like sports arenas are prime places for distributed antenna systems, because they routinely host large crowds of active mobile device users. The larger carriers have installed their own DAS in some of these venues. In others, a tower company has built a "neutral host" DAS to support more than one carrier.
"If we're in a stadium or a basketball arena or some other public venue we always build a system that's then co-locatable among all the carriers," said Crown Castle CEO Ben Moreland. Crown Castle has been a leader in installation of both indoor and outdoor DAS nodes, with more than 12,000 nodes currently deployed.
This report outlines current DAS trends, including a Las Vegas case study, and also explores small cells and integrated Wi-Fi. Topics covered in this report include:

DAS in large public venues, including a Las Vegas case study
Carrier DAS versus neutral host DAS
The challenges associated with outdoor DAS
Top DAS equipment vendors
Outdoor small cells, including challenges around site acquisition and backhaul
Enterprise small cells, including a Vodafone case study
Leading small cell vendors
Wi-Fi integration for small cells
Wi-Fi offload for carriers
This report is accompanied by a complimentary webinar on the same topic featuring two leading analysts of HetNet trends and technologies: Aaron Blazar of Atlantic-ACM and Rupert Baines of Real Wireless. Moderated by Martha DeGrasse, this webinar also features Philip Sorrells of CommScope and Laith Dahiyat of Accruent.
Click here to download the webinar.
Click here to download the feature report.
About RCR Wireless News
Since 1982, RCR Wireless News has been providing wireless and mobile industry news, insights, and analysis to industry and enterprise professionals, decision makers, policy makers, analysts and investors. Our mission is to connect, globally and locally, mobile technology professionals and companies online, in person, and now on video. Our dedication to editorial excellence coupled with one of the industry's most comprehensive industry databases and digital networks leads readers and advertisers to consistently choose RCR Wireless News over other industry publications. http://www.rcrwireless.com