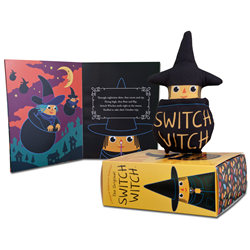 A Magical Halloween Tradition
Rowley, MA (PRWEB) October 01, 2014
Now there's a way for kids to enjoy Halloween without all of the sugar! With Switch Witch, kids are excited to trade their trick-or-treat sweets for a gift from their very own "magical" Switch Witch.
Introducing Switch Witch: a children's book written by Lara Spear Riley and illustrated by Nashbox, with an original Switch Witch doll and cauldron, all in a keepsake box. The complete Switch Witch package is made in the USA.
With many families concerned about children's food allergies, childhood obesity, and dental health, this new Halloween tradition allows families to take the focus away from the candy in an easy way that is positive, enjoyable, and exciting for kids.
The handmade Switch Witch doll visits each fall and stays with families as a guest in the days leading up to Halloween. As all hosts do, kids make their Switch Witch friend feel happy and welcome. In exchange, each Switch Witch has an amazing surprise on Halloween night. At bedtime, kids leave a heap of trick-or-treat sweets with their Switch Witch pal, and in the morning they will see that their candy has been switched (wink! wink!) for a special switch gift.
Written by Lara Spear Riley and illustrated by Nashbox, the children's book brings this Halloween tradition alive:
"Since long ago and still this year, when Halloween is coming near, Switch Witches cheer, 'Let's go visit' Of course to stay with you, my dear There's even more Switch Witches do For spending so much time with you - to thank you for the great delight - you'll get a magic switch-a-roo A switch-a-roo? Yes, that's right. Trade some treats from Halloween night. Your Switch Witch friend will wave a wand and leave a gift - it's quite a sight! While you're asleep, these words will ring, you might, might hear your Switch Witch sing: Switch-a-Zam Switch-a-Zing Switch these treats for a special thing."
The Switch Witch Log at the end of the book is a great way to record children's Halloween memories - with plenty of space to log dates, Halloween costumes, and Switch Witch gifts.
Proud to be made in the USA, the book was written in Massachusetts, illustrated and designed in Maine, and printed in New Hampshire. The doll was designed in Maine with fabric printed in California, and hand made in Georgia. The box was designed in Maine and printed in California.
Interact at http://www.switch-witch.com. The site includes a countdown clock to the magic Halloween swap, downloadable coloring pages, and a daily Switch Witch blog. Families can also share their own Switch Witch photos, ideas, and traditions on Switch Witch's Facebook page, @switch_witch on Instagram, and Pinterest/switchwitch.
About the Switch Witch Family
As parents of young children, brother-and sister-in-law Lara Spear Riley and Rob Bouley are passionate about giving families a holiday tradition to enjoy together while supporting better health for children. For more information, visit http://www.switch-witch.com.
Rob Bouley: rob(at)switch-witch(dot)com
Lara Spear Riley: lara(at)switch-witch(dot)com