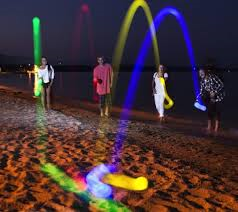 Fort Adams has been home to all manners of competitions, including sailing regattas, 10 mile races, rugby and Quidditch, to name a few.
Newport, RI (PRWEB) September 29, 2014
In the spirit of uniqueness, the Fort Adams Trust is determined to stage events that stray from the norm. "Years ago when soldiers were stationed here at the Fort, sports were a leading recreational activity," says Fort Adams Trust Executive Director Rick Nagele. "Sports here included baseball, football, soccer, and bowling. Inspired by this, we decided to add a little fun to our annual fundraiser this year."
"In its earliest years, coconuts were used as bocce balls. In this playful spirit, we were inspired to incorporate glow in the dark bocce balls for our fundraiser," continues Nagele.
"Our fundraiser will also be a celebration of Newport's Sister Cities. Our key sponsor, The Catering Gourmet, will be serving foods inspired by each of our six Sister Cities: Shimoda, Japan (Sushi and stir fried rice); Kinsale, Ireland (seared cod loin with Guinness braised cabbage); Ponta Delgada, Portugal (Portuguese sausage and kale soup with grilled sweet bread); Imperia, Italy (eggplant parmesan); St. John, Canada (grilled shrimp) and Skiathos, Greece (souvlaki)," noted Cara Wortley, who assisted in creating the event.
Event guests will be greeted by a mystery guide and host, be treated to great food and beverages and enjoy relaxing and strolling within the walls of America's Largest Castle. And all this while enjoying a super Newport sunset, great music, and of course if they choose, compete in Newport's First International Glow in the Dark Bocce Tournament. Of course, the event may be as much fun to watch as to play.
Nagele concludes, "These creative moments are encouraged by our Fort Adams Trust Board, fellow staff, and wonderful sponsors. The Catering Gourmet, Newport Storm Brewery, Newport Vineyards, MS Walker and Newport Tent Company have gone above and beyond for us, we ask that you keep them in mind when planning future events."
The Annual Fort Adams Trust Fundraiser will be held on Saturday, October 4th from 6-10 PM. Tickets are available online $65 ($30 is tax deductible) and tickets include 2 alcohol drinks. Tickets and information can be found here.
About the Fort Adams Trust
The Fort Adams Trust is a 501 (c)(3) non-profit responsible for preservation, programming, and promoting the National Historic Landmarks in Fort Adams State Park in Newport, Rhode Island. Over 100,000 people tour the Fort and attend events in the Park annually. The Trust accepts donations to support its preservation and programming missions.
http://www.FortAdams.org
About Newport, Rhode Island
Newport, often called the City by the Sea, is also referred to as "New England's second global city." In addition to the incredible historic destinations and cultural activities, great restaurants and shops, and unrivaled scenic beauty, there is a cosmopolitan sophistication to the City. International visitors abound and you can hear multiple languages on the streets. http://www.discovernewport.org