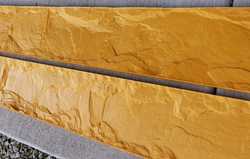 Morris, Illinois (PRWEB) September 29, 2014
In the old days of decorative concrete, when one needed stair risers or concrete edge faces to be textured to resemble stone it was a tedious process that only gave mediocre results. Thanks to ultra-realistic step liners from Walttools, this process has changed dramatically and makes it easier for homeowners to improve their home's curb appeal.
To use them is fairly simple. In a nutshell, the contractor attaches the form liner tools to the inside of their form work and pours the concrete. The results are concrete edges that are difficult if not impossible to distinguish from real natural materials, in this case slate. The 3D texture and depth produced by these forms provide the basis for a skilled decorative concrete contractor to go over and above for their clients, especially when finished with Walttools stains and professional grade concrete sealers.
These Tru Tex Slate step inserts are in two sizes to fit common lumber – 2"x6" and 2"x8". The 8" comes in two different profiles for variety. A Chiseled slate and a Split slate. They can be used together or alone if a more specific look is wanted The 6" is just a split slate. They can be easily cut on a miter saw for corners and even have the flexibility for curving around a reasonable radius. For the more creative contractor, liners and complimentary countertop edges can be combined to create striking bullnose designs.
Step form liners can also be used creatively in other projects such as heavy wall caps, benches, dramatic counter tops, and planters to name a few.
The liners can be used with standard releases, color hardeners, acid stains, water base stains, etc. You should learn these options and what they can do for you.
To reduce repeating users can turn alternating liners upside down.
Walttools is a premier manufacturer of Decorative Concrete Supplies whose products have been used in over 30 countries. Their lines include Tru Impressions texture tools, the Tru Tex vertical concrete line, Tru Tint stains, and the ultra-versatile Tru Pac line of specialty ad pacs.