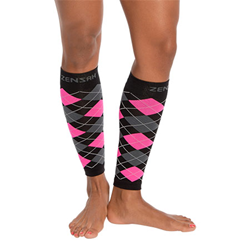 The compression leg sleeves aid cross country runners to reduce delayed onset muscle soreness (DOMS) throughout training in addition to speeding up recovery
Miami, FL (PRWEB) September 29, 2014
Every autumn, as high school and college gets back into the school year, cross country running season takes off! Athletes typically train throughout the summer in preparation for the fall cross country running season. Zensah®, the leading compression apparel company, makes the best compression leg sleeves and compression socks for cross country running.
The compression leg sleeves aid cross country runners to reduce delayed onset muscle soreness (DOMS) throughout training in addition to speeding up recovery. The newest Zensah® Compression Leg Sleeves are available in stylish designs including argyle, camouflage, and polka dots.
Cross country running is a sport in which teams and individuals in high school and college run races outdoors and on natural ground. The course can include a variety of terrain including grass, woodlands hills, and sometimes gravel road. The variances in training territories and need for fast recovery after tough workouts makes compression leg sleeves a necessity for cross country running.
The Zensah Compression Leg Sleeves are designed with special technology to help runners prevent muscle soreness and help reduce shin splint pain. The compression sleeves can also help with calf pain and soreness. Zensah® has now released the popular compression leg sleeves in new designs. The special compression leg sleeve designs include argyle compression leg sleeves, polka dot compression leg sleeves, and camo compression leg sleeves.
About Zensah: Zensah® is a Miami-based company, specializing in sports compression apparel. Their seamless compression socks, compression sleeves, full product line are praised by athletes and fitness enthusiasts, including running, cycling, triathlon, yoga, basketball, golf, and soccer. Zensah® offers compression products for performance and recovery. According to Leisure Trends Group Specialty Running RetailTRAK™, Zensah® is the number one selling Compression Leg Sleeves in the USA for Running Specialty.