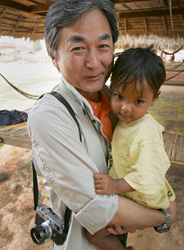 It was a decisive moment when I saw a young girl die in front of my eyes in the regional hospital
New York, New York (PRWEB) September 30, 2014
World of Children Award (http://www.worldofchildren.org) will honor Kenro Izu – founder of the nonprofit, Friends Without A Border (FWAB) – in New York City on November 6, 2014, for building a hospital in Cambodia that has become the nation's model of sustainable pediatric care.
Izu first encountered Cambodia's appalling lack of pediatric healthcare when he met children suffering from a variety of disabilities and illnesses during a photography trip in 1993.
Horrified, Izu visited a regional hospital, where he met a father sitting by the bedside of his desperately ill daughter, a girl who was about the same age as Izu's daughter. Her father didn't have enough money to pay for her treatment, so the doctors refused to help her.
While Izu was talking to the father about his tragic situation, the young girl passed away.
"It was a decisive moment when I saw a young girl die in front of my eyes in the regional hospital," Izu said. "Her life was cut short because her parents could not pay $2 to the hospital and the doctors of the hospital left the girl alone without providing any treatment."
Determined to stop this tragedy from reoccurring, Izu undertook a campaign to build a pediatric teaching hospital in Cambodia with international standards, which opened its doors in 1999. Subsequently, satellite clinics were opened as a model of locally sustainable health care.
"The goal is that all children who seek help will receive high-quality and compassionate care," Izu said. "It's as I always tell our staff, 'Treat every patient as if they were your own child.'"
Since then, FWAB has treated over 1.2 million children and provided advanced training to thousands of health workers.
"We are deeply inspired by the remarkable contributions our Honorees have made to changing the trajectory of children's lives for the better," said Harry Leibowitz, World of Children Award Co-Founder and Co-Chair.
Today, construction is underway for a similar state-of-the-art pediatric teaching hospital in Laos, scheduled to open in early 2015. Funding from World of Children Award will help FWAB construct and equip this new hospital in Laos.
To learn more about Mr. Izu, visit http://www.worldofchildren.org/honoree/kenro-izu/
###
About World of Children Award
World of Children® Award improves the lives of vulnerable children by funding and elevating the most effective changemakers for children worldwide.
Since 1998, World of Children Award has granted more than $6 million in cash grants and program support to 100 humanitarian leaders who are the driving force behind programs serving children worldwide. The organization's exhaustive research and vetting of individuals has been hailed by leading philanthropic organizations. The media often refers to World of Children Award as the Nobel Prize for child advocacy.
World of Children Award has been featured on The New York Times, The Huffington Post, People, Town & Country, and Harper's Bazaar. World of Children Award Honorees have also been featured by The New York Times, CNN, The Ellen DeGeneres Show, Fast Company Magazine, People, Glamour, TEEN Vogue, TIME for Kids, USA Today and the Christian Science Monitor, among several other national and international media.
Most recently, The Huffington Post named World of Children Award's Co-Founders, Harry Leibowitz and Kay Isaacson-Leibowitz, one of the United States' most inspiring "power couples" for their lifetime commitment to improving the lives of vulnerable children around the world.