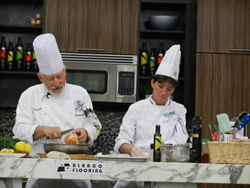 "We celebrate quality time with family and friends as we eat at home," said Chef Paulette Bilsky, Personal Chef and Culinary Coordinator for the Show."So the Home Show is the perfect venue to celebrate chefs and their delicious dishes."
Fort Lauderdale, FL (PRWEB) October 01, 2014
Reality cooking TV shows are extremely popular, whether it is for the food, the contestant drama, or both. Home Show Management Corp, producers of the Fort Lauderdale Home Design and Remodeling Show presents a local, more wholesome version of reality cooking competitions at the upcoming show, October 17-19th at the Broward County Convention Center. The popular Culinary Experience Cooking Stage will feature several competitions on Saturday, October 18th introducing local South Florida chefs competing against one another, as well as culinary students competing for top of the class . . . and the Home Show audience gets to have a taste and a vote in the competition results!
The day's competitions will begin with a tasty cook-off featuring the culinary students of Dr. Michael M. Krop Senior High School. The students will compete in teams, and will try to woo both their professional judges and the Home Show audience for a win. In a following cooking competition, Chef James Lubin (Semaj Catering) will compete against Chef Alain Lemaire (Sensory Delights Catering and Secretary General at Haitian Culinary Alliance). These two dynamic and talented chefs will go head to head in flavor, boldness and flair!
Resident Chef Wes Bonner of Publix Aprons Cooking School will demonstrate the many culinary delights taught to students of the school. In the final cook-off of the day, Chefs Cristina Iglesias and De'Broyna Hodges, two up-and-coming culinary talents will compete against each other to please the pallets of the voting audience.
On Sunday, October 19th, the Culinary Experience will feature a variety of South Florida chefs who will dazzle the audience with tasty recipes to sample and enjoy. Featured chefs include Chef "Mimi" Charles (Divine Cakery), Chef Stella Giraldella (Basil Personal Chef), Chef Day Longsomboon of Tamarind and Chef Paulette Bilsky (Culinary Coordinator and Personal Chef).
The Home Design and Remodeling Show will showcase a comprehensive collection of home improvements, interior design and home renovations for indoors and out. Personalized, one-on-one interaction with industry experts is a mainstay of the Home Show. In addition, complimentary seminars by experts are featured. Home Show Management Corp, producers of the Home Show, has been producing quality events in South Florida for over forty years.
The Ft. Lauderdale Home Design and Remodeling Show is produced by Home Show Management Corp. and Perl Advertising Group. Like us on Facebook at http://www.facebook.com/FloridaHomeShow and follow us on Twitter @FLHomeShows for promotional offers and further details on the show.
Show hours: Friday (10/17) 3:00 pm -9:30 pm; Saturday (10/18) noon-9:30 pm; and Sunday (10/19) noon-7:30 pm.
For more information: Show office 305-667-9299 or visit http://www.homeshows.net