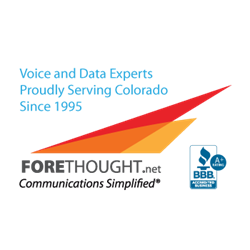 The investment to bring fiber into each building is the right choice for Colorado
Denver, CO (PRWEB) September 30, 2014
FORETHOUGHT.net announced today that it delivers super-fast broadband to Denver residents and businesses, offering speeds of up to 1 gigabit per second.
This year FORETHOUGHT.net has increased its fiber broadband penetration by over fifty percent throughout Denver. A fiber connection allows users eye popping Internet experience, Hosted VoIP with guaranteed QoS, and seamlessly Cloud services.
Though CenturyLink announced earlier this summer that it would turn Denver into a gigabit city, FORETHOUGHT.net announced its first residential gigabit building, Broadway Plaza Lofts, in 2013.
Following in the footsteps of CenturyLink's street marketing with fliers, FORETHOUGHT.net i s launching this week a building by building campaign to distribute fliers to the respective buildings currently lit with fiber service.
"The investment to bring fiber into each building is the right choice for Colorado," Jawaid Bazyar, president said. "Because we are a small business located in Curtis Park in Denver, our expansion has been slower than demand. We plan to change that."
Fiber-optic service can be up to 100 times faster than national average broadband speeds of 10 megabits per second. However, the biggest benefit of fiber-optic broadband is its reliability ensuring the highest quality of service.
###
Since 1995, FORETHOUGHT.net has been a locally owned and operated Internet, phone and cloud service provider. We focus on providing unified communications voice and data solutions for Colorado businesses. This includes our boutique data center, cloud hosting and storage including IaaS, electronic fax, online call flow interface and more. Our point of difference in the marketplace is our ability to deliver next generation VoIP integrated smart devices and speeds up to a gigabit. Our focus is on innovation and customer service. We are committed to bridging the gap that slow broadband causes so that homes and businesses throughout Colorado have the tools needed to compete globally.