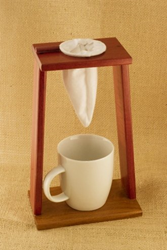 The afternoon coffee is a deliciously easy habit to take up.
Manuel Antonio, Costa Rica (PRWEB) September 30, 2014
In Costa Rica, coffee is grown in the high mountains of the country, but the so-called "grano de oro" or "golden grain" has left a lasting impact on the whole culture and economy of the nation. International Coffee Day is an ideal time to reflect on the significance of the contribution of coffee to Costa Rican culture.
Nineteenth-century coffee trade brought wealth to the Costa Rica and spurred development of infrastructure including roads and public buildings. Taxation of income generated through coffee allowed Costa Rica to make primary education, "obligatory, free, and at the cost of the Nation" through a Constitutional revision in 1869.
In addition to being the universally popular breakfast drink, a midday coffee break, known locally as the "cafecito", is virtually an institution in Costa Rica, with workers of all classes and skills pausing to charge up with a cup of coffee and some fresh-homemade traditional pastries or an empanada. Traditionally, visitors who stop by a Costa Rican home will be offered a coffee regardless of the time of day. The "golden grain" is even represented in the country's national emblem, alongside volcanos, merchant ships, and the two oceans that border the country.
Tulemar spokesperson Dave Houck notes that, "Coffee aficionados always remark on the wonderful coffee served in Costa Rica. Like the beaches and the rainforest, the delicious coffee is a wonderful asset that the guests of our bungalows and villas appreciate. The afternoon coffee is a deliciously easy habit to take up. It's something to look forward to each day."
Coffee no longer dominates the economy in Costa Rica, having fallen to 2.5% of GDP in 2013, but it leaves a lasting impact on the people, the culture, and the landscape.