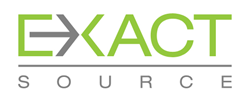 We know that the secret behind being an exceptional company is hiring exceptional employees
Atlanta, GA (PRWEB) September 30, 2014
On September 12th, the Atlanta Business Chronicle hosted their Annual Best Places to Work event, where they recognized successful companies with outstanding employee satisfaction in the Atlanta area. The award ceremony, headlined by United States Senator Johnny Isakson, was sold out as attendees waited anxiously to hear which companies had earned the coveted distinction of being named one of the city's top 100 places to work.
ExactSource was proud to be named to the list for the third year in a row. "This is such an exciting achievement for our company, especially considering ExactSource was launched just three years ago," said ExactSource Director of Marketing, Sarah Walpert. ExactSource is a national leader in the delivery of talent solutions, software and organizational consulting to firms in the architectural and engineering sector. The company was launched in April 2012, by its sister company, Matteson Partners, one of Atlanta's leading Executive Search firms for the past 27 years.
"We are extremely honored to be recognized for the third time," said Katy McDonald, ExactSource's Chief Operating Officer. "An organization's most valuable asset is its people - we know that the secret behind being an exceptional company is hiring exceptional employees."
Each year the Atlanta Business Chronicle, in partnership with Quantum Workplace, surveys the metro area's employers to find those that have discovered how to become one of Atlanta's Best Places To Work. Employees of companies from all over the Greater Atlanta Area participated in an anonymous survey, where they were asked to evaluate their company in various areas such as teamwork, job satisfaction, benefits, retention risk, and manager effectiveness.
About ExactSource:
ExactSource is the leading recruiting, organizational consulting, market research, and software solutions company providing services to firms in the Architectural and Engineering sector.
ExactSource is best known in the A/E/C industry for their highly acclaimed ExactProfile technology, a system released in 2012 that assesses and catalogs more than 115 critical engineering skill sets and experience levels that aren't typically identified on a resume. Using this breakthrough screening software, HR managers are able to instantly identify the technical candidates that meet their exact requirements. This methodology provides a smarter way to hire, and it is the objective of ExactSource to have every A/E/C firm across the country using ExactProfiles as part of the hiring process.
ExactSource brings a combined 151 years of experience in technical and leadership recruitment, and has established a prominent presence in the Engineering community. The company successfully serves firms in 39 states across the nation, including over 20 firms on the Top 500 A/E list.
For more information about ExactSource and their consulting, research, software, and recruiting services, visit their website or contact David Schmidt at dschmidt(at)exactsource(dot)com.