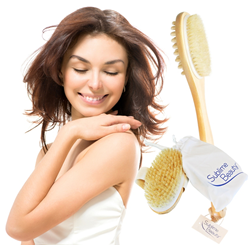 For only 10 minutes per day and less than a $20 investment, well-being can be improved, says Sublime Beauty®. The secret is Skin Brushing.
St. Petersburg, FL (PRWEB) September 30, 2014
Only ten minutes per day and an investment of less than $20 can improve well-being, says Sublime Beauty®.The secret is Skin Brushing.
"We have a special niche in Skin Brushes and have introduced thousands to this great practice," says Kathy Heshelow, founder of Sublime Beauty®.
Heshelow was interviewed recently on the eHealth Radio Network about Skin Brushing. Listen in here to learn more.
"We have just released a simple "How-To" Guide which can be obtained by clicking through to our Skin Brushing Facebook page and joining," says Heshelow.
The Body Brushes are available on the company webstore and on Amazon.
Sublime Beauty® also maintains a website devoted solely to Skin Brushing.
About: Sublime Beauty® is a quality skincare company that focuses on products to "Age Younger". Ingredients help to boost collagen, hydrate, relax wrinkles and improve skin. A niche includes healthy Skin Brushes. The company webstore offers free standard shipping and a VIP Club. Sign up for Secret Sales on the site. Products also available on Amazon.