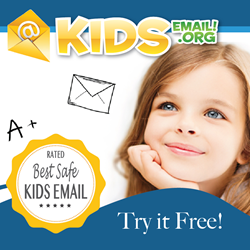 To have the opportunity to partner with a leading educational company like CNK Digital is a major milestone for KidsEmail
Arbon, Idaho (PRWEB) October 01, 2014
KidsEmail, the world's leading family-friendly email provider, is now available on all ClickN Kids Tablet 2 devices after inking a distribution deal with the tablet's parent company CNK Digital.
"We are extremely excited about partnering with CNK Digital. The ClickN KIDS Tablet 2 is an outstanding learning tool for the entire family and is offered at a terrific price point. To have the opportunity to partner with a leading educational company like CNK Digital is a major milestone for KidsEmail," said company founder Jacob Andersen.
At just $99.95, the ClickN KIDS Tablet 2 comes with premium features and hardware including a sleek new interface and lighting-fast Intel processor. The tablet comes standard with:
Android 4.4 OS (Kit Kat)
7", 1024 x 600 resolution, capacitive multi-touch screen
HD quality display, 16.9 aspect ratio
1.2 GHz Intel ® Atom Processor Z2520 1GB RAM 8GB onboard storage memory, up to 32GB additional memory via micro SD card slot
5GB of Cloud storage with Google Drive
Front facing webcam (3 MP), Rear facing webcam (2MP), with microphone
Built-in Wi-Fi
Micro USB port
5-8 hours of battery life
In addition, the ClickN KIDS Tablet 2 is pre-loaded with more than 30 games and award-winning apps including, SmartRunners™, Learn2Write – Start2Finish™ and the multi-award winning Looney Tunes Phonics.  And with parental control features powered by Kiddoware, the tablet ensures identity protection and restricted access to unwanted content
"We are thrilled to work with KidsEmail. Our goal at CNK Digital continues to be advancing the world of digital education for children that is safe and effective," said Donald Plehn Jr. VP Marketing at CNK Digital. "By incorporating KidsEmail into our ClickN KIDS Tablet 2, we are able to provide children with a tool that allows them to communicate with their peers and parents, while ensuring its outmost security."
Launched in 2009, KidsEmail.org is a safe email service designed to protect kids ages 4 to 12 from Internet dangers including cyberbullying, pornography, predators, and email from strangers. This service allows kids to only send emails to and receive emails from people on their contact list while also allowing parents to monitor email conversations. Visit http://www.KidsEmail.org to learn more and to sign up for a free trial.
 
About CNK Digital
CNK Digital (http://www.cnkdigital.com), parent company of ClickN KIDS, is a worldwide publisher, developer, and distributor of innovative, engaging and award-winning digital education experiences for computer, handheld, and mobile platforms. CNK Digital produces a line of tablets including the ClickN KIDS Family Tablet, a best seller in several categories on Walmart.com. CNK Digital products and curriculum are being used successfully in all 50 states and by international students in more than 100 countries.