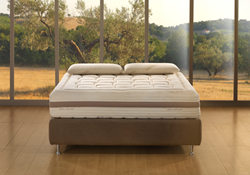 Magniflex, Italy's #1 selling mattress
Miami, FL (PRWEB) October 03, 2014
Magniflex launched in the US market in the Fall of 2013 with an official US showroom in Miami, Florida. The US collection features the best selling global lines including: Supremo, Dolce Vita, Toscana, Magnigel and Classico. To announce the launch of the brand a US print campaign has been launched across major home and design magazines, along with an extensive social media campaign and exciting in-store promotion.
Why is Magniflex Memory Foam different?
Magniflex has its own technology and research center in Tuscany, Italy and has been developing its own memory foam materials for over 50 years. While many companies now outsource their production overseas, every part of a Magniflex mattress is made locally in Italy. In addition what makes Magniflex memory foam sought after is the high density cell structure that makes the foam more reactive to the pressure of the body versus body heat which is typical of other memory foam mattresses. This superior technology eliminates the "heat flash" effect that most consumers complain about with memory foam. Magniflex mattresses are a breath of fresh air that offer a satisfying sleep.
Sleep together but at your own level of comfort.
People have individual sleeping needs and Magniflex has found a way to satisfy those needs with their Dual Comfort Technology. This innovative system designed by Magniflex allows the individual mattress sides to be easily adjusted allowing one side to offer a firm nights sleep and the other a softer nights sleep. The result is seemless and perfect comfort for everyone highest quality standard and craftsmanship.All Magniflex Mattresses are made with painstaking detail and desire for perfection that is the Italian way. This is why they have received the highest standard certifications including Oeko Tex Certification that certifies that all mattresses and materials are absent of harmful substances that are toxic and harmful to people and the environment.
GOTS (global organic textile standard): Issued by the Institute for Ethical and Environmental Certification, it certifies that the organic collections are made with 100% certified organic materials
CFR 1633, FIRA, TB603: All Magniflex mattresses have the highest fire safety certifications that ensure the current fire-safety regulations that safeguard consumers.