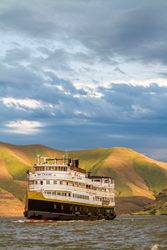 "This savings is an extra incentive to lock in your 2015 adventure or river cruise now," said Captain Dan Blanchard, CEO. "Don't let 2015 pass you by without new adventures, friends and memories."
Seattle, WA (PRWEB) September 30, 2014
Beginning October 1, Un-Cruise Adventures unrolls a new adventure savings of up to $500 per couple on new reservations made by December 30, 2014. The savings may be applied to select 2015 cruises on the Columbia and Snake Rivers, Coastal Washington, British Columbia, Hawaiian Islands and Mexico's Sea of Cortés.
"This savings is an extra incentive to lock in your 2015 adventure or river cruise now," said Captain Dan Blanchard, CEO. "Don't let 2015 pass you by without new adventures, friends and memories."
Columbia & Snake Rivers
Travelers may save $400 per couple on spring Columbia & Snake River cruises departing April 4 through June 6, 2015. The 88-guest S.S. Legacy sails weeklong Legacy of Discovery voyages roundtrip Portland, Oregon with included shoreside tours and lively on board presentations focused on Lewis and Clark's expedition, Oregon Trail, Native Americans, early pioneers and entrepreneurs. Rates for the inclusive cruise begin at $3,195 per person, double occupancy (before savings).
Coastal Washington & British Columbia
Three couples traveling together in three cabins on the same date for a Pacific Northwest adventure cruise roundtrip Seattle save $500 per couple. Choose spring or fall dates in 2015 on either the British Columbia Yachters' Paradise aboard the 22-guest Safari Quest or coastal Washington's Explore! Olympic Wilderness & San Juan Islands cruise aboard the 60-guest Wilderness Adventurer. All adventure activities included. Rates begin at $3,695 per person aboard the Safari Quest and $1,695 per person aboard the Wilderness Adventurer (before savings).
Hawaiian Islands
An adventure savings of $500 per couple for a weeklong cruise in the Hawaiian Islands may be applied to departure dates from January to April 2015. The inclusive cruise aboard the 36-guest Safari Explorer sails from Moloka'i to Hawai'i (or reverse) and explores four islands: Moloka'i, Lana'i, Maui and Hawai'i with adventure activities and tours included. Rates begin at $3,595 per person, double occupancy (before savings).
Mexico's Sea of Cortés
Travelers booking the new Baja's Bounty! Whale Sharks, Whales and Mobulas itinerary save $300 per couple on sailings departing January through March 2015. The 84-guest Safari Endeavour sails roundtrip San José del Cabo on inclusive adventures exploring Baja's Sea of Cortés, a UNESCO World Heritage Site described as the "world's aquarium" by Jacques Cousteau. All adventure activities included. Rates begin at $2,995 per person, double occupancy (before savings).
Inclusive adventures on the Columbia & Snake Rivers, British Columbia, Hawaii and Mexico include all activities; exquisite meals; fine wine, premium spirits and micro-brews; hot tub, sauna, exercise equipment, yoga on deck and a massage for wellness; transfers; and all port charges, taxes and fees. At a beginning rate of $1,695 on the coastal Washington cruise, massage, drinks and fees/taxes are an additional charge.
The adventure savings offer is for new reservations booked by December 30, 2014. To book or to request additional information, contact your travel agent or Un-Cruise Adventures at 888-862-8881 or sales(at)un-cruise(dot)com.
Visit the Media Gallery for press materials and images. More high-res photos for editorial use are available through Sarah Scoltock at sarahs(at)un-cruise(dot)com.
About Un-Cruise Adventures
Un-Cruise Adventures' boutique yachts and small ships carry 22-88 guests on voyages in Alaska, Hawaiian Islands, Mexico's Sea of Cortés, Columbia & Snake Rivers, coastal Washington and British Columbia and Galápagos Islands. Un-Cruise Adventures, under the parent company of InnerSea Discoveries Alaska Inc., is a member of Trusted Adventures, dedicated to the highest standards of small-group travel and to giving back to the places visited.