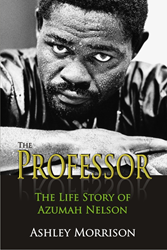 This book is not only a fascinating read but an important story to be told. We are thrilled to announce its release
(PRWEB) October 02, 2014
What a story author Ashley Morrison has to tell, and it's all true. Azumah Nelson has been described as the greatest boxer to come out of Africa. Born the year after his home nation of Ghana gained independence, he played a major part in putting this new country on the world map.
Very few champions have carried such a burden of expectation. Azumah delivered at a time when his country needed a hero. He never faltered and won the respect of sports fans across the globe. As an amateur, he won every title except an Olympic medal, as Ghana boycotted the 1980 Games (which he was favoured to win.) After turning professional, he accepted a last-minute bout for the world title with Salvador Sanchez, a bout that changed his life. Two years later, in 1984, he won the WBC Featherweight World Title.
Azumah rose from humble beginnings and suffered tragedy, but he overcame his background to triumph and remain a world champion at featherweight and super featherweight for 11 years. His story is sure to inspire a new generation.
"This book is not only a fascinating read but an important story to be told. We are thrilled to announce its release," said Robert Fletcher, CEO of Strategic Book Publishing and Rights Agency.
"The Professor: The Life Story of Azumah Nelson" (ISBN: 978-1-62857-105-9) is now available for $18.95 and can be ordered through the publisher's website: http://sbprabooks.com/AshleyMorrison, Amazon, or the website of Barnes and Noble.
Wholesalers: This book is distributed by Ingram Books and other wholesale distributors. Contact your representative with the ISBN for purchase. Wholesale purchase for retailers, universities, libraries, and other organizations is also available through the publisher; please email bookorder(at)sbpra(dot)net
About the Author: Born in Wiltshire, England, Ashley Morrison now lives in Perth, Australia, where he presents a sports radio show and is a commentator for TV and radio stations in the Asia Pacific region. This is his third book. "I interviewed Azumah for a documentary on his life. He always wanted to tell his life story and I was privileged that he asked me to do it. I remember watching him fight on television when I was growing up in England, so to be asked to catalogue his life was incredibly special." He also voiced a documentary on Azumah titled "Zoom Zoom."
Author's website: http://www.AshleyMorrisonmedia.com
Strategic Book Publishing and Rights Co, LLC