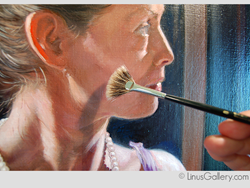 Being able to feature artwork from all over the world plays a key factor into what makes my art gallery so successful
Los Angeles, CA (PRWEB) September 30, 2014
Social media has proven that it's here to stay and Los Angeles based art gallery, Linus Galleries, is no exception to this social media frenzy. Businesses of all sizes are hopping on board to concentrate a significant amount of time and money towards PR and marketing through major platforms such as Facebook, Twitter and Google +.
The contemporary art gallery relies heavily on social media sites as a powerful tool to promote their opportunities for artists with call for entries and online art shows. Through such outlets Linus Art Galleries is able to continually promote their artists with blog posts, Facebook features and tweets, to name a few.
One of the significant perks of social media is the ability to instantly reach a large audience. The art gallery showcases their online art shows, consisting of a dynamic collection from artists both domestic and international, and with this large audience just a click away they are able to showcase their art for sale to anyone anywhere. "Being able to feature artwork from all over the world plays a key factor into what makes my art gallery so successful," owner and curator Linnea Lenkus explained.
Facebook, the social media hub that is currently home to the largest following for the Los Angeles art gallery, provides an online community where the artists engage with creative news, upcoming art calls and featured interviews with artists. "Everyone really enjoys our artist spotlights," Lenkus said about the weekly blog spot titled the "Artist Interview Series" which dives into the minds of selected Linus artists.
Lenkus said, "The artist features are a quick read about the common things you would want to know about a creative such as their process and background. We pair their interview with visuals of their studio, tools they use and works in progress. I, myself, just find it fascinating." Lenkus further explained that the talented artists also show off their less introverted sides in the interviews with lighter questions that have them revealing hidden talents, famous artists they would want to drink with and pictures of their pets and studio mascots. "We wanted these interviews to be informative, but quirky, and above all another way to successfully promote the artists that we believe in," said the curator.
Linus Galleries will continue to utilize social media as an important tool for growing their online art community and to share what they have deemed as incredible art that the world must see. You can follow this ambitious art gallery on all of the major social media platforms.
About Linus Galleries
Linus Galleries was started in 2011 by the highly experienced and internationally published Los Angeles portrait photographer, Linnea Lenkus. Linus Galleries gives the opportunity to be in both online and live juried art exhibitions to artists worldwide.