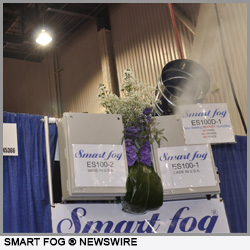 Low maintenance and plug and play installation
Reno, NV (PRWEB) September 30, 2014
AHR Expo, the world's largest HVACR marketplace, takes place in Chicago on Jan. 26-28, 2015, and Smart Fog is excited to announce that it will be exhibiting at booth 6083. Smart Fog is a provider of commercial humidifiers and the most trusted leader in non-wetting humidification systems.
In addition to new 2015 models of the Smart Fog ES100 direct space commercial humidifier and TS100 in-duct humidifier, they will also present the industry's first silent direct space humidifier. The silent humidifier has all of the functions of the ES100 and operates silently – an industry first. The ES100 direct lets user achieve the following without increasing utility bills or compromising safety:

Non-wetting precise humidity control
Elimination of mold, bacteria and dust
No drains, pumps or fans required
May be wall mounted or inserted into ducts
Besides being maintenance-free with no moving parts, the ES100 direct space humidifier has simple plug and play installation and a modular system that fits to any application and size. Smart Fog's double cooling technology provides precise relative humidity control as it creates a 4.2 micron droplet size with equal air spacing technology.
For more information on Smart Fog and to find out more about their involvement in the 2015 AHR Expo, click here.
About AHR Expo:
AHR Expo is the world's largest HVACR marketplace. The show brings together over 2,000 exhibiting companies and 40,000 visitors, representing the entire spectrum of the industry including: HVACR manufacturers, engineers, contractors, OEMs, facility managers, and other professionals. In addition, attendees will find over 100 educational seminars, workshops (presented by ASHRAE and others) and new product presentations. AHR Expo is designed for attendees looking to keep up with the latest technology and trends, get face to face with the experts, and stay connected.
About Smart Fog Inc:
In business since 1980, Smart Fog Inc. is the recognized world leader in the industrial and commercial humidification systems industry. And, all products are manufactured in the U.S. Smart Fog, The Humidification Experts, is a world leader in developing unique industrial and commercial humidifier systems to meet the individual needs of your environment.