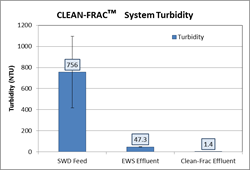 Los Angeles, CA (PRWEB) September 30, 2014
OriginOil Inc. (OTC/QB: OOIL), developer of Electro Water Separation (EWS), the high-speed, chemical-free process to clean up large quantities of water, announced today that in a letter to shareholders, CEO Riggs Eckelberry reported on the launch of the company's CLEAN-FRAC™ industrial grade demonstrator in West Texas, at a site provided by partner STW Resources.
Immediately upon startup, the system ramped up to 1000 barrels per day (bpd) and achieved a 99.8% reduction in Turbidity on flowback water from various sites in the Midland, TX area.
Also in the letter, Eckelberry reported that co-founder Nicholas Eckelberry is speaking today at the Algal Biomass Summit, in San Diego.
The full report is now available on OriginOil.com's website at http://www.originoil.com/ceos-update/blue-gold-in-west-texas
Safe Harbor Statement:
Matters discussed in this release contain forward-looking statements within the meaning of the Private Securities Litigation Reform Act of 1995. When used in this release, the words "anticipate," "believe," "estimate," "may," "intend," "expect" and similar expressions identify such forward-looking statements. Actual results, performance or achievements could differ materially from those contemplated, expressed or implied by the forward-looking statements contained herein, and while expected, there is no guarantee that we will attain the aforementioned anticipated developmental milestones. These forward-looking statements are based largely on the expectations of the Company and are subject to a number of risks and uncertainties. These include, but are not limited to, risks and uncertainties associated with: the impact of economic, competitive and other factors affecting the Company and its operations, markets, product, and distributor performance, the impact on the national and local economies resulting from terrorist actions, and U.S. actions subsequently; and other factors detailed in reports filed by the Company.