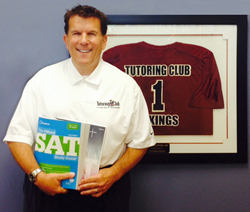 We gauge success on the number of smiling faces when our kids graduate, and when they get their test scores.
Cherry Hill, N.J. (PRWEB) September 30, 2014
To hear Alan Cohen tell it, his business success is all about trust.
"People entrust us with their children's academic future, and, boy, we take that very seriously," said the owner of http://www.tutoringclub.com, which is marking 10 years in business – and more than 5,000 students – this month. "For any parent, there's nothing more important."
Nestled in the Short Hills Shopping Center along Evesham Road, on the border of Cherry Hill and Voorhees, The Tutoring Club isn't easy to see from the road but has nonetheless become a highly visible presence in the community. Its bookwormish penguin logo is ever-present at local academic and youth events, and on athletic field fences and team uniforms. Chances are, if you've ever attended a back-to-school night or parent-teacher conference at a Voorhees or Cherry Hill high school, you've found a Tutoring Club flier upon your return to your car. This would all simply be savvy marketing if Cohen and his wife and business partner Joy Cohen didn't back it up with the business checkbook.
Since its opening, The Tutoring Club has donated or raised tens of thousands of dollars for seemingly every academic cause short of the basket-weaving club. The 75 SAT/ACT practice exams it has administered since 2006 have alone brought in $40,000 for various education or extracurricular groups, at $35 per student. Over the past nine years Tutoring Club has donated $20,000 to Voorhees and Cherry Hill Parent Faculty Associations. It has also awarded college scholarships to graduating Eastern Regional High School students every year since 2009.
Clearly, there's self-interest at play – high-achieving students (and their parents) are good for business. But when you consider the Cohens' involvement in community causes that don't touch education, the only conclusion that can be drawn is that they're just vested in giving back. A 28-year resident of Voorhees, Alan Cohen is a board member and former chairman of the Voorhees Business Association, and serves on the board – and is a frequent sponsor – of the Alicia Rose "Victorious" Foundation, which provides social lounges and comfort items for hospitalized teenagers across the country. His community activism earned him recognition as 2009's Business Person of the Year by the Voorhees Breakfast Rotary Club.
Joy, a recently retired teacher at the Township's E.T. Hamilton School, is a volunteer with Alicia Rose "Victorious" Foundation.
"The Tutoring Club has been an invaluable presence in the Voorhees Community for the past decade," said Voorhees Mayor Michael Mignogna. "Alan and Joy have created a comfortable, welcoming environment to help mold the the lives of our most valuable asset – our children. Students at the Tutoring Club have grown academically, socially and emotionally. Not only that, but they have been wonderful ambassadors and treasures of Voorhees, contributing their financial support and their time to such groups as Alicia Rose."
But the volunteering and charitable giving is all secondary to Cohen. It's the parental trust, and their commitment to the kids who come through their doors daily, that drive his success, and that have ranked his facility among The Tutoring Club's top five franchises out of 82 in the U.S., and the top franchise on the East Coast, every year of its existence.
On average, SAT test scores among Tutoring Club's students improve by 220 points, or nearly 10 percent. The average test score in this area is 1650, vs. 1500 nationally.
"Ten years is just a number on the calendar," said Cohen. "We gauge success on the number of smiling faces when our kids graduate, and when they get their test scores."
The Tutoring Club's upcoming SAT/ACT practice exam fundraisers are Oct. 5, Oct. 19 and Nov. 2, 2014. For more information, visit http://www.tutoringclub.com or call 856-616-8808.