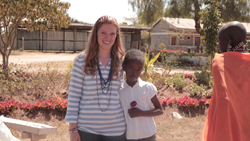 I realized that the very best tool that would give someone a real chance was one she could use to pursue her own dreams: an education
(PRWEB) September 30, 2014
World of Children Award will honor 17-year-old Mary Grace Henry – founder of the nonprofit, Reverse The Course – in New York City on November 6, 2014, for funding the education of girls living in extreme poverty.
"The greatest obstacle to education faced by both girls and boys is poverty," Mary Grace said. "Girls, though, face a second hurdle that is far more difficult to address: their culture. In many countries throughout the world, girls are viewed as having not just lesser value than boys, but often devastatingly little or no value."
When she was 12, the Harrison, New York resident became determined to change the life of an underprivileged girl by funding her education. Mary Grace taught herself how to make reversible headbands with a plan to use 100% of the profits to send girls living in extreme poverty to school.
"I realized that the very best tool that would give someone a real chance was one she could use to pursue her own dreams: an education," Mary Grace said.
Undaunted by the fact that she had no knowledge of running a business or using a sewing machine, Mary Grace got to work. Soon, she had raised enough money to reach her goal. But she couldn't stop there: so many other girls still did not have access to education.
To date, Reverse The Course (http://www.reversethecourse.org) has sold over 11,000 hair accessories and funded the education of girls in Kenya, Uganda, Paraguay and Haiti who, without Mary Grace's support, would not have been able to attend school. Each student participating in the program receives an entire secondary education, complete with uniforms, shoes, textbooks, supplies, testing costs and boarding fees.
"We are deeply inspired by the remarkable contributions our Honorees have made to changing the trajectory of children's lives for the better," said Harry Leibowitz, World of Children Award Co-Founder and Co-Chair.
Funds from World of Children Award will support Reverse The Course's mission to provide education for disenfranchised girls and develop business training and mentoring programs for girls, empowering them to become agents of positive change in their societies. To learn more about Mary Grace Henry, visit http://www.worldofchildren.org/honoree/mary-grace-henry
###
About World of Children Award
World of Children® Award improves the lives of vulnerable children by funding and elevating the most effective changemakers for children worldwide.
Since 1998, World of Children Award has granted more than $6 million in cash grants and program support to 100 humanitarian leaders who are the driving force behind programs serving children worldwide. The organization's exhaustive research and vetting of individuals has been hailed by leading philanthropic organizations. The media often refers to World of Children Award as the Nobel Prize for child advocacy.
World of Children Award has been featured on The New York Times, The Huffington Post, People, Town & Country, and Harper's Bazaar. World of Children Award Honorees have also been featured by The New York Times, CNN, The Ellen DeGeneres Show, Fast Company Magazine, People, Glamour, TEEN Vogue, TIME for Kids, USA Today and the Christian Science Monitor, among several other national and international media.
Most recently, The Huffington Post named World of Children Award's Co-Founders, Harry Leibowitz and Kay Isaacson-Leibowitz, one of the United States' most inspiring "power couples" for their lifetime commitment to improving the lives of vulnerable children around the world.