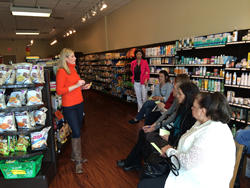 A selenium deficiency coupled with an iodine deficiency is likely to lead to thyroid imbalance. Iodine is an element that is needed for the production of thyroid hormone.
Orland Park, Illinois (PRWEB) September 30, 2014
1. Why are some celiacs sensitive to dairy?
The same intestinal villi that process the gluten also process the dairy. Celiacs who eat gluten become [lactose/casein intolerant after the villi and microvilli in their small intestine become damaged. As a result, they are no longer able to catch and break down the lactose/casein molecule, which in turn causes a dairy sensitivity. Also, a person can have casein antibodies.
2. What are your recommendations for [sub-clinical hypothyroid in terms of diet, lifestyle and supplements?
Diet: Today's modern diet is filled with an overconsumption of sugars and refined carbohydrates that can lead to increased inflammation in the body. Avoiding wheat and gluten is an important dietary change to make. Hashimoto's and graves diseases are both diseases of the thyroid and autoimmune in nature. It is essential to follow a wheat free, gluten free diet when managing the symptoms associated with autoimmune diseases.
Lifestyle: Proper sleep habits, as well as a regular exercise routine are beneficial.
Important thyroid supplements:
1. Selenium: If selenium is low, the thyroid will have do its best to work harder to make it's hormones, and the body will also have a more difficult job changing those hormones into a form your cells can use. This happens because selenium is a chief component of the molecules, which are necessary for your body to be able to create and use thyroid hormones, called seleno-proteins.
2. Iodine: The problems which selenium deficiency can cause are made more serious when another key nutrient, iodine, is low as well. Selenium is crucial in aiding the body to recycle iodine. A selenium deficiency coupled with an iodine deficiency is likely to lead to thyroid imbalance. Iodine is an element that is needed for the production of thyroid hormone. The body does not make iodine, so it is an essential part of your diet. If a person does not have enough iodine in their body, they cannot make enough thyroid hormone.
3. L-Tyrosine: Too little L-tyrosine, a critical amino acid, limits the amount of thyroid hormones the body can make. Taking L-tyrosine supplements can kick start a sluggish thyroid
4. Guggul: Guggul supplements have the ability to regulate thyroid function and improve hypothyroidism. Gugguisterones, found in guggul, have the ability to increase the output of the thyroid gland and stimulate the conversion of the T4 thyroid hormone into its more active T3 form. This can help increase metabolism and burn fat. [ProVitality Thyroid Energy is supplement that offers a broad spectrum of benefits.
3. What do you recommend for perimenoposal woman who experience mood swings & great tenderness monthly?
Chaste Berry (Vitex): Both extensive clinical studies, as well as over two thousand years of use in folk medicine, have proven the effectiveness of this remedy. It works by stimulating and normalizing the pituitary gland, which regulates the balance of estrogen and progesterone in the body.
In a normal menstrual cycle, estrogen is higher before ovulation and progesterone is higher after. Many women don't realize that an imbalance of these hormones can lead to the entire range of symptoms associated with PMS and menopause! Vitex usually has the effect of enhancing progesterone and decreasing estrogen levels.
Vitex itself has none of the hormonal building blocks that many of the medicinal plants used for the reproductive system contain. Instead, this herb nourishes and supports the endocrine system to find its own balance. Almost all of symptoms associated with the menstrual cycle can be treated with this plant. It is the single best herb for treating the many possible symptoms of PMS: cramps, flooding, headaches, depression, water retention, constipation, acne, breast tenderness, and irritability.
Like all herbs, Vitex works best when combined with a lifestyle that includes pure water, whole food, gentle exercise, and plenty of self-love. Vitex is a slow-acting herb. New Vitality Health Foods, Inc. recommends allowing three full cycles for the plant to really work its magic.
4. Recently, there has been a lot of information on TV about the benefits of coconut oil. I heard that it could help cure yeast and candida? Is that true?
Yes, coconut oil does have anti-fungus properties that help cure yeast and candida overgrowth. Candida causes symptoms that don't seem related… sinus infections, blurred vision, moodiness, sugar cravings, and fatigue. It is caused by an overgrowth of fungus in the gut, and affects the whole body. High stress, sugar, processed foods, and antibiotics are mostly to blame.
Treating symptoms individually, without knowing what's really causing them, does not destroy the harmful root cause which is the overgrowth itself. It is critical to treat the condition is with a candida-destroying diet. Coconut oil, in particular, is one of the best fats you can add to your diet. Coconut oil is also a natural anti-inflammatory. Try ProVitality Coconut Oil.
New Vitality Health Foods, Inc. recommends talking to your physician before starting any supplement regime.
About New Vitality Health Foods, Inc.:
Established in 1988, New Vitality Health Foods, Inc. provides Chicagolands' largest selection of allergy-free foods that have met their high standards for taste, quality, and nutrition. New allergy-free foods are introduced weekly. They also carry frozen foods, vitamins, herbs, homeopathic, aromatherapy, body care, pet care, household items and much more. New Vitality features only the highest quality, effective nutritional supplements to support their customers' total health. New Vitality Health Foods, Inc. is located at Orland Park Crossing, 14225 S. 95th Avenue Suite 410, Orland Park IL, 60462. (708) 403-0120 http://www.newvitalityhealthfoods.com