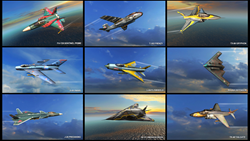 Our aim was to make Air Combat: Online the most wonderful and challenging aerial combat game on all mobile platforms
Beijing, China (PRWEB) October 22, 2014
Become the supreme lord of the skies with today's launch of Air Combat: Online for iOS and Android devices. Released by VOLV Interactive, the indie game studio behind the worldwide popular free-to-play mobile games, such as Ace Wings: Online, Black Operations and Warfare Nations, the latest and ultimate Air Combat: Online couples intense aerial combat and stunning visuals with a robust Career mode and an online multiplayer for 1v1 and 2v2.
Air Combat: Online expands on the already-huge armada of jet fighter, allowing players to pilot more than 50 different planes, each with stunning paints and details. And advanced 16+ unique upgradable tech system are provided for players to elevate their skills. Featuring next-gen 3D graphics with an eye-poping experience in the 360-degree aerial battlefield, the game offers an enhanced, epic 50 adventures that including challenge Devil Regiment, Duel, Cannon Only and Free of All in realistic weather effects for a more authentic challenge.
Utilizing VOLV's stable and enhanced Game Server, combatants can try to withstand the endless waves of enemy attack in Survival mode, and they can also call two wingmen to challenge other pilots in 1v1 or 2v2 matches. Leveraging the accelerometer and on-screen controls, Air Combat: Online is easy to master and players are able to perform advanced maneuvers, such as the classic barrel roll and backflip, by swiping the screen.
"Our aim was to make Air Combat: Online the most wonderful and challenging aerial combat game on all mobile platforms", Said Tian, CEO for VOLV Interactive.
Download from App Store:
https://itunes.apple.com/us/app/air-combat-online/id901335927?ls=1&mt=8
Download from Google Play:
https://play.google.com/store/apps/details?id=com.volvapps.ef3.x
VOLV Interactive is a rapidly developing company founded in 2011. We have released several titles for iPhone, iPad and Android. Copyright (C) 2011-2014 VOLV Interactive. All Rights Reserved.
Apple, the Apple logo, iPhone, iPod and iPad are registered trademarks of Apple Inc. in the U.S. and/or other countries.