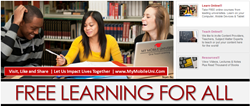 Washington, D;C. USA (PRWEB) September 30, 2014
MyMobileUni seeks to partner globally with companies, public and private sector, and NGO's who have similar shared vision to transform individuals and empower communities through education said Dr Lawrence Wasserman, Honorary Advisor (MMU):

to impact lives of people through education anywhere, anytime 24/7 for all ages
to have focused channels on youth development, woman and girls, child empowerment
to promote equal access to education and inclusion, of the most vulnerable segments of society, such as the disabled via ICT so as to ease an individual's access to learning
MyMobileUniversity calls upon the passionate social change-makers of the world to join and turn this problem around through innovative shared partnerships. MMU seeks institutions such as foundations, international organizations to be part of this global participation to meet need of its population through education and learning.
Wemel Cumavoo Co-Founder and CEO, MyMobileUniversity shared some ways to work together to make a difference, where he calls upon:
Companies doing CSR programs to work with us to promote education, providing aid to marginalised communities
Individuals passionate about the universal right to education to come on board to be our Ambassadors
NGOS' using education as one of the most powerful weapons in fighting poverty to collaborate with My Mobile University
Today school dropouts and youth unemployment are a real issue. Across the world, youths don't get a chance to complete high school and excel in what they are good at because of various reasons, as a result without the necessary skill set or paper qualification they will be employed at lower paying jobs.
A global study by Telefonica of young adults aged between 18-30 years said access to technology and education will help to bring them out of poverty and ensure them of their success. Support from organisations, NGOs' and individuals who are passionate about rights of education to partner together and to impact lives together globally while at the same time enabling individuals across the developing world to unleash their personal potential allowing them to move up and thus able to seek better opportunities, said Wemel Cumavoo, MyMobileUniversity.
Who is MyMobileUniversity? We are global with initiatives to impact lives through education founded by LTT Global, an award winning mobile and web based learning company that has been pioneering learning on the go since 2004.
MMU is a one-stop centre to access free and quality learning content that offers learning on-the-go. MyMobileUniversity provides them with scalable, online learning solutions, as global students, professionals, and businesses have to remain relevant in their pursuit of success and to remain competitive.
Currently our web site http://www.mymobileuni.com provides over 20 channels housing links of learning resources ranging from Universities and Colleges, Entrepreneur and Business Programs, Computer Science and IT Programs, Professional Courses, Soft Skills and Skills Training for Workplace, Video Talks and Lectures, Life Skills and Lifestyle Programs covering Motivation, Music, Arts, Hobbies, Programs for Teens and Children, Worldwide Radio and News, and education software tools and mobile apps for your mobile devices.
Please join us and be a part of something big.
For More Information Please Contact:
Corporate HQ
Rani Wemel,
Co-Founder/COO
Email: founders(at)MyMobileUni(dot)com
Tel: +60377323443 Mobile: +60192070510
Dr Lawrence Wasserman,
Country Director, USA
Email: dr.lawrence(at)MyMobileUni(dot)com | wfuture(at)hotmail(dot)com
Tel: +1301424183 Mobile: +12404623471