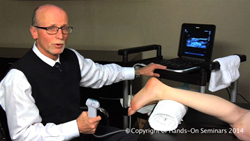 "Focusing on, 'shortening the learning curve of MSK ultrasound'"
Astoria, New York, (PRWEB) October 01, 2014
Chronic musculoskeletal conditions and acute injury are painful and often debilitating. Daily, physical therapists around the world are called upon to help patients suffering from the wide range of health problems caused by musculoskeletal dysfunction. However, correct diagnosis of the source of the problem has always been a challenge in clinical practice.
Effective treatment relies for its results on thorough and accurate diagnosis. Research and evidence support using ultrasound as the first diagnostic test for numerous musculoskeletal conditions.
Diagnostic ultrasound is noninvasive and offers real-time imaging, allowing for examinations of structures at rest and in motion. This ability to capture the movement of musculoskeletal components, differentiates it from other imaging modalities, and can permit more accurate diagnoses.
Hands-On Seminars has just rolled out their unique Muskuloskeletal Ultrasound Imaging Certification Program (Cert MSKUS), being offered Online and as a Hybrid.
This course is taught by noted educator and diagnostic Medical Sonographer, Dr. Randy E. Moore. Since 1994, his work has focused entirely on using diagnostic ultrasound to evaluate the musculoskeletal system. His expertise is called upon by ultrasound manufacturers and teaching institutions throughout the United States.
Dr. Moore has published the best selling sonography book Sonography of the Extremities. He has continually improved and updated the book to demonstrate the most advanced approaches to scanning the extremities, while still defining its scope to be one of the most "user friendly" texts available today.
An additional exciting feature of the Hands-On Seminars training is the opportunity the physical therapist has to take the course online, learning all the theory at their own pace and in their own time. The Online course is state of the art and extremely high quality. The training is clear and brilliantly taught.
Those who want to become certified can also take the live practical certification where they can practice and master the scanning protocols on multiple subjects.
Participants will learn the techniques and protocols of performing proper musculoskeletal ultrasound examinations to the shoulder, elbow, wrist/hand, hip, knee, ankle and foot and to identify the sonographic appearance of common pathologies of these extremities. In addition to that course participants will be trained on how to guide via ultrasound joint and other injections.
This one of a kind program offers comprehensive training to the physical therapist in the use of MSK ultrasound in clinical practice and fulfills continuing education requirements for diagnostic imaging.
Hands-On Seminars, Inc. (HOS) is the leading international continuing education organization in the world, awarded the Lecture & Seminars Award as the best Lecture and Seminar Company from the Lectures and Seminars Bureau over the past two years. Their purpose is to provide the best quality Manual Therapy seminars at an affordable cost. For further information, please contact: Alexandra Rosner at 888-767-5003 or info@handsonseminars.com