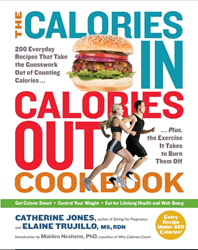 "Finally, an up-to-date and scientifically rigorous approach to sustainable weight management coupled with exceptional recipes! STEVEN K. CLINTON, MD, PHD, Professor, College of Medicine, The Ohio State University
Bethesda, MD (PRWEB) September 30, 2014
At the 19th Annual Baltimore Book Festival, held from September 26 to 28, hundreds of authors, book sellers, and publishers convened at Baltimore's Inner Harbor to share their works, philosophies, and even some great food on ten different stages. Catherine Jones and Elaine, Trujillo, MS, RDN, authors of The Calories In, Calories Out Cookbook, helped kick off this annual event with a cooking demo in the Food for Thought Tent. Jones, a trained chef and award-winning author of four cookbooks, served samples of Festive Margarita Punch, followed by Aromatic Basmati Rice, Chicken Burgers with Ricotta and Sun-Dried Tomatoes, and Fresh Mint, Cilantro, and Green Chili Chutney.
In the Authors' Tent the next two days, the Jones and Trujillo team practiced what they preach by offering to calculate the daily calorie needs of anyone who stopped by their booth. The reaction was extremely positive. One person said, "That's it. I was afraid. I can do this."
"Everyone should know their daily calorie needs," Jones says. "If you know how many calories you need, you know when to stop. And, you can choose the healthiest foods possible within your calorie allowance." Jones thinks of overconsumption as to trying to put more gas in your car than the tank will hold. "It's not a good idea. Fill your tank, burn it off, and then go back for more."
On September 24, Jones made a guest appearance on The Juice, Veria Living, to talk about calories and healthy cooking. She presented dishes for a 1,200 daily calorie menu from The Calories In, Calories Out Cookbook to show the live audience and viewers that eating within that calorie range can be delicious and not at all depriving. Focus was placed on how long it would take a man or woman to walk or jog off the particular dish. Bottom line: Men tend to burn calories faster than women because they have more lean body mass. For more information about author appearances, the Share Your Calories App, and upcoming events in October and November, please go to the Calories In and Calories Out Blog.
Catherine Jones is the award-winning author of four cookbooks, including Eating for Pregnancy, and, with Elaine Trujillo, Eating for Lower Cholesterol. She a blogger, freelance writer, Share Your Calories Nonprofit Program Director, and app developer. Elaine Trujillo, MS, RDN, is a nutritionist at the National Institutes of Health (NIH).