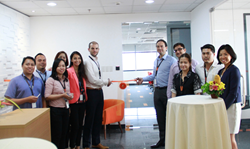 MicroSourcing has a great coverage of Metro Manila with delivery centers in Bonifacio Global City, Eastwood City Cyberpark, Mall of Asia Complex and now in Ortigas Center.
MANILA, PHILIPPINES (PRWEB) October 20, 2014
MicroSourcing CEO Philip Kooijman and COO Sjoerd Krosse cut the ceremonial ribbon last October 15 to officially open MicroSourcing's new delivery center in Manila.
MicroSourcing's new office is located at the 27th and 32nd floor of the Robinsons Cyberscape Beta building in Ortigas Center, the second largest financial and business district in Manila.
The 32nd floor went live last September, to be followed by the 27th floor in November this year. The delivery center features 560 seats, a flexible layout, and modern facilities.
The Robinsons Cyberscape Beta building is a grade A office development in a prime location near the Asian Development Bank and with easy access to the public transport system.
The opening of the Ortigas office was a remarkable day for MicroSourcing. Philip Kooijman said, "MicroSourcing has a great coverage of Metro Manila with delivery centers in Bonifacio Global City, Eastwood City Cyberpark, Mall of Asia Complex and now in Ortigas Center. This spread enables us to cover the major population and education centers in the city. A brand new delivery center means we can provide our clients with a unique opportunity to customize their work area and include their own ideas into the office fit-out. We will furthermore be offering promotional rates to new clients who sign up with us for our Ortigas delivery center."