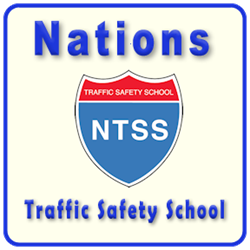 Nations is thrilled to be affiliated with the American Safety Institute.
Tampa, Florida (PRWEB) October 01, 2014
Nations Traffic Safety School has partnered with the American Safety Institute (ASI). Both organizations are engaged in providing Driver Improvement and other Education Services through personalized classroom instruction and through online traffic school courses. Nations has now been able to expanded the course offerings at their Florida locations and on their web site.
Rick Adams, President of Nations Traffic Safety School stated "he is thrilled to now be affiliated with the American Safety Institute. We began a search for a new course provider in the Spring. What attracted us to ASI were their integrity and real commitment to education. They met all of our criteria to provide exceptional educational courses and services to our students. We felt strongly that since ASI is headquartered in Tallahassee and is intimately familiar with the traffic safety issues of our state, their course curriculum's would better meet the needs of our students and the State of Florida."
Bart Cassidy Jr, the Executive Vice-President of ASI commented "the American Safety Institute (ASI) is very pleased to announce our affiliate partnership agreement with Nations. Both companies have corporate offices located in Florida. We share a common goal of educating and teaching drivers safe techniques and methods that reduce serious collisions, injuries and fatalities. This is a win-win for both of us and will certainly help enhance the road safety in Florida."
Nations Traffic Schools now offer 9 Driver Education Classes designed to meet the State's needs. They provide classroom courses for students with traffic tickets that want to keep points off their license, students with court ordered requirements, and help to drivers with point suspensions or those requiring a hardship license regain their privileges. Nations Traffic School's advanced classroom courses include the state approved Aggressive Driving Course, Driving While License is Suspended / Revoked and the12 Hour ADI Course.
Nations also offers Online Traffic School for the 4 Hour Basic Driver Improvement Class, 8 Hour Traffic School Course, the 12 Hour Advanced Driver Improvement Class and the required 4 Hour TLSAE Course (Drug and Alcohol class) for Teens and New Drivers. These are all Florida DMV and Court Approved Classes.
To obtain a Learners Permit, new teen drivers in Florida must complete the 4 Hour TLSAE Course and pass the written Class E Knowledge Exam prior to taking the road test. The ASI hosted and newly added DMV Certified Class E Knowledge Exam now allows teen drivers to complete both courses through the same online portal at Nations.
By partnering with ASI, Nations has also added three Florida court ordered diversion courses to their curriculums. The 4 Hour Anger Management Class, the US Trustee certified Bankruptcy Class and the Florida DCF approved Parent Education and Family Stabilization Course are now offered online through the Nations web site.
Nations Traffic School has been teaching traffic school classes in Florida since 2005. They have graduated over 20,000 students from their classroom courses. Nations has three locations in the central Florida area providing court ordered defensive driver courses; Tampa, Orlando and Kissimmee. They also provide distance learning courses through their virtual online classroom portal for the rest of the State.
Nations Traffic School and its subsidiary Nations Academy Center are one of the largest independently operated driver education schools in Florida. Originally founded in 2005 in Tampa, this family owned and operated educational center has expanded to three locations. They are now established as one of the premier driver improvement schools in Florida. Nations is extremely proud of their history, business ethics, integrity, their instructor's passion for education and commitment to Florida communities by creating safer roads through education.
The American Safety Institute is one of the top Florida Department of Highway Safety and Motor Vehicles (DHSMV) approved course providers. ASI has been developing course curriculum's, and offering traffic and driving school classes since 1989.
Both ASI and Nations Traffic School are members of the Florida Providers for Traffic Safety (TFPTS). The FPTS is a coalition of safety organizations working to promote traffic safety, ethics and integrity in the Florida Driver Improvement industry. The organization represents over 150 small and medium sized schools in the state, and a few DMV approved course providers all dedicated to maintaining the educational standards established by local, state and federal governments.