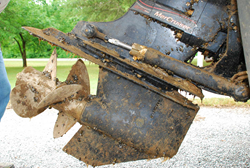 We are excited that we can bring a product to the area that is affordable, easy to use, and actually works.
Pottsboro, TX (PRWEB) September 30, 2014
Sometimes you stumble upon something that changes your life. Charlie and Terri Williams are hoping that is the case with Dock Disk ™. A small company called 060Bio, LLC has developed a Zebra and Quagga mussel repellent. Repellent is the key word here. In other words, it does not kill the mussels, or anything else for that matter; but if they are there, they go away. If they are not there, they stay away.
The first manifestation of the technology is aimed at marina and boat owners. 060Bio designed the 7.5" soft foam disk to hang from a dock or slip, in the water, say 3 to 4 feet down. By spacing them 12 to 15 feet apart, one can achieve a "mussel free zone". The disks last up about 6 to 7 months, then one simply replaces them with fresh ones. In addition, they are recyclable.
After hearing about and witnessing the effectiveness of the product, Charlie and Terri have decided to they have an opportunity to add strength to their portfolio. "It's a small start-up company, but the product works. We are in a niche that effectively has limited or no competition. We welcome Charlie and Terri's enthusiasm and input to our overall marketing plan", explains Paul Coxe, CEO of 060Bio.
The Williams are based out of Pottsboro, TX and will be serving the recently infested lakes of north Texas from Texoma on down.
The biggest hurdle for the Williams was overcoming the idea that the product would be acceptable by government officials for use in what is almost always somebody's source of drinking water, like a lake, river, or stream. In fact, the only active ingredient in the Dock Disk ™ has passed EPA and NSF standards for drinking water, and is safe in any environment. Green means go.
Those that no longer want to scrape their boat or personal water craft, or don't want to worry about their engines getting fouled by mussels can contact the Williams on Facebook at Zebra Mussel Free Zone or by phone at (903)327-5209. More information can be found at http://www.060Bio.com. The mussel repelling technology is patent pending. Distribution opportunities exist in other geographic areas.