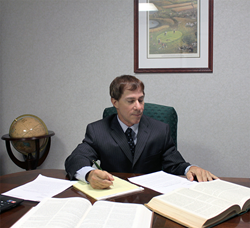 COCOA, FLORIDA (PRWEB) October 01, 2014
Robert M. Marasco resides and practices law in Brevard County, Florida for 32 years. Robert is well-established within the Rockledge, Florida community.
Robert now offers a second law office location in Cocoa, Florida. Local residents of Cocoa, Florida are encouraged to call and schedule a free consultation to discuss DUI, Criminal Defense, Family Law, and Personal Injury.
The addition of a second law office location is a convenience, plus Robert is offering a flat-rate $200.00 hourly fee for many areas of the law practice. That reduced hourly fee is less than market for Robert's level of experience and skill.
As part of Robert's effort to reduce client costs, he offers another affordable advantage, by operating the law practice cost-effectively. Robert has decided not to waste resources buying fancy furniture and law office decor. By these cost-cutting measures, Robert can now provide each legal client competent legal services at a reduced price.
According to Robert, "By reducing law office overhead expenses, I do not have to invoice clients for the cost of paralegal services, photocopies, or postage which translates to a substantial savings in favor of each client."
Robert now offers a "no-fine-print" contract and offers a "payment plan" in order to assist more clients to overcome difficult and emotional legal matters.
Robert pledges to protect the legal rights of clients, committed to clients, their family members, and their respective legal causes. Striving to bring integrity and professionalism to this law practice, and working hard to obtain a good result in exchange for a modest fee.
Robert personally handles each client's case. The client will never be assigned or outsourced to some other lawyer or paralegal. The law office staff does not manage client legal matters. According to Mr. Marasco, "When you hire me, you get me." Robert's stated goal is to resolve legal problems quickly and at less expense."
Robert believes the best way to grow his law practice is through client referrals. According to Mr. Marasco, "Approximately 99% of client feedback is extremely positive. In main, my clients appreciate my work ethic and low fees."
Robert provides candid assessment and realistic predictions. By keeping each client informed as the legal work is resolved provides clients peace of mind.
According to Mr. Marasco, "I am a trial lawyer. I do not spend all day sitting behind a desk."
Judges and other local lawyers consider Robert Marasco a zealous litigator.
On September 20, 2014, Mr. Marasco launched a new mobile responsive website and encourages Cocoa, Florida residents to visit the new website to learn more about affordable legal services. The new website address is http://www.marascolawoffice.com.
More About Robert M. Marasco, Esq.
Robert is proud to represent Brevard County citizens for more than three decades. Robert is an experienced trial litigator. He has represented local, out of county, and out of state residents involving DUI, criminal defense, divorce, family law, paternity, juvenile, BUI and personal injury matters. Robert has handled more than 7,000 cases, 500 criminal jury trials and 1,500 family law non-jury trials. He has filed numerous criminal, divorce, and family law appeals in the Fifth District Court of Appeal.
Robert is a member in good standing of The Florida Bar Association, Brevard County Bar Association, the Florida Association of Criminal Defense Lawyers, and the Family Law and Criminal Law sections of The Florida Bar.
Robert is admitted to practice in all Florida State Courts and the United States District Court for the middle district and southern district of Florida. Early in his career, Robert worked three years as an Assistant Public Defender in Brevard County. In law school I was a judicial law clerk in Tallahassee.
Robert received his Juris Doctorate from Florida State University Law School in 1982, graduated cum laude with a Bachelor's Degree in political science and a minor in philosophy from Mercyhurst College in Erie, PA.