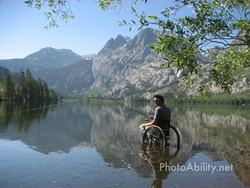 The World Summit - Destinations for All promises to take the current dialogue on accessible tourism to a new and exciting level.
Miami, Fl (PRWEB) September 30, 2014
Accessible tourism has never been more relevant: One Billion people or 20% of the world's population are currently living with a disability, and with a greater aging demographic, this number will only increase. The industry is now thinking of tourism no longer solely as a luxury, but as a need that is shared by everyone and wanting to reflect this in their marketing. Using travel and lifestyle stock imagery that reflect real people with disabilities is paramount to sending a welcoming message of inclusion.
By making tourism accessible to all, destinations are:
Responding to the reality of an aging population
Providing a more inclusive focus on all customer requirements
Winning the loyalty of travelers
Distinguishing themselves from the competition
Contributing to their destinations' civic pride
Opening up to a major economic opportunity
Contributing to sustainable development
PhotoAbility's co-founder, Bill Forrester will be presenting two sessions at the summit: The Importance of Using Inclusive Imagery in the Promotion of Tourism and The Importance of Universal Design in Tourism Product Development.
The World Summit - Destinations for All promises to take the current dialogue on accessible tourism to a new and exciting level. By bringing together key players in tourism, culture, and transportation, the Summit aims to identify and implement the necessary measures to establish international tourism that is inclusive and accessible.
"Travelers with a disability are like any other group of people; with their own set of dreams and aspirations. Through our Promotional Partnership, it is our aim to encourage tourism operators to attract this valuable market segment by including Inclusive Imagery in their marketing." said Bill Forrester Co-Founder of PhotoAbility
About PhotoAbility
PhotoAbility was established in March 2012 by Bill Forrester and Deborah Davis with the goal of providing high quality, unique, non-medically oriented imagery of persons with disabilities for purchase by the advertising, marketing and media sectors. The Commercial Stock Image Library specializes in positive and "Inclusive" images of people with a disability in leisure, lifestyle and travel settings.
The 2000+ inclusive images depicted in the PhotoAbility gallery are designed to impact attitudinal bias, change perception and provide motivation to eliminate and reduce social, structural and professional barriers. A wave of change reflected in popular media, and advertising can make an impact on laws and attitudes around the globe and on how many with differing abilities view themselves.
For more information and to view PhotoAbility.net's positive, inclusive Stock Images, please visit http://www.PhotoAbility.net.