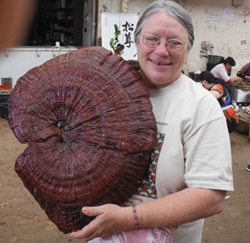 Reishi and other medicinal mushrooms can regulate the immune system so the body doesn't create allergies. They are foods! They're SuperFoods! - Sandra Williams The Mushroom Lady
Perkins, OK (PRWEB) September 30, 2014
Imagine living spring to fall without allergies.
Although allergy medicines can stop respiratory symptoms quickly, they can make us drowsy or agitated, give us dry-mouth and mental fog; and in some cases may have side effects that compromise vital organs.
"Medicinal mushrooms to the rescue!" says The Mushroom Lady, Sandra Williams of Lost Creek Mushroom Farm. Sandra and her husband, Doug Williams, shiitake mushroom growers for almost 30 years, study, write and speak about the benefits of edible and medicinal mushrooms.
Reishi, scientific name: Ganoderma lucidum, is the most-researched mushroom in the world and one of the oldest, most highly respected medicines in human history. "Reishi modulates the immune system – strengthens a weak immune system and calms an excessively active immune system – without side effects," Sandra explained.
According to MedicinePlus, a service of the U.S. National Library of Medicine, National Institutes of Health, "An efficient immune response protects against many diseases and disorders. An inefficient immune response allows diseases to develop. Too much, too little, or the wrong immune response causes immune system disorders. Immune system disorders occur when the immune response is directed against body tissue, is excessive, or is lacking. Allergies involve an immune response to a substance that most people's bodies perceive as harmless."
Dr. Williams commented, "The benefit of antihistamines and other allergy treatments is that symptoms are quickly suppressed. Mushrooms take longer because they change the body's ability to handle the allergens. It may take a couple of weeks, but then symptoms are reduced to little or nothing – and so important – with no side effects.
"I was born with allergies, took shots as a child and took antihistamines as a teen and an adult. Now, since I have become a professional mycophile (mushroom lover) I don't have allergies. Neither does my husband. We grow and eat shiitakes, which stimulate and strengthen the immune system. We grow a little reishi on logs, gather wild reishi and we buy it. I used to make capsules, but that's lot of work. So now I grind it up and we sprinkle on food, drink it as tea and add it to our coffee. If we need extra healing power, we can heat the mushrooms in hot water to extract the polysaccharides and increase the medicinal benefits."
Reishi mushrooms, powder, coffees and teas, supplement capsules, and concentrated extracts are available in Asian markets, health food stores, and online. Growing kits are also available from a number of sources.
Reishi is not the only mushroom that can help the body overcome allergies. Chaga, scientific name Inonotus obliquus, is a shelf mushroom that grows wild in northern climates. Chaga is recently cultivated as a medicinal mushroom and can be consumed as tea and in recipes. Maitake, Grifola frondosa, has a long history of pharmaceutical use – and it is a delicious health food.
"These mushrooms are Superfoods, well known and easy to find locally and online. Scientists know a great deal about immunomodulating or immunoregulating mushrooms and fungi. The pharmacological potential of mushrooms is tremendous," Williams said.
"We're talking here about allergies in the height of allergy season. Start taking reishi, chaga, maitake or other immune-regulating mushrooms now and begin the end of allergies. By spring, you could be allergy-free – and in much better health, period.
"We can look to mushrooms for building strong, lasting health. We are already using mushrooms to treat diseases such as cancer, HIV, dementia, diabetes, high blood pressure, liver and kidney disorders, heart disease, high cholesterol." Sandra said.
"It's nothing to sneeze at."
Lost Creek Mushroom Farm contributes a portion of shiitake mushroom log kit sales to Mushrooms in Ghana Project, (See video) a program to increase production and profits for small-scale mushroom farmers, most of them women, in Ghana, West Africa.