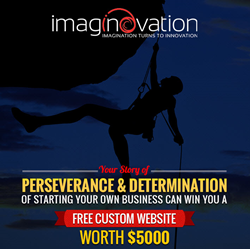 knowledge shared is knowledge gained
Raleigh, NC (PRWEB) September 30, 2014
Imaginovation, a leading provider of web design and development services including website and mobile app development has just launched a very interesting Facebook contest called #CrossingHurdles.
This contest aims to give business owners a chance to tell the public at large about the hurdles they faced while starting their business and how they overcame these problems. The business owner whose story wins the maximum number of votes will be declared the winner and awarded a custom website worth $5000. The idea is to not only run a contest, but to also give entrepreneurs a platform to share the struggles they faced when having started their business.
As they say, "knowledge shared is knowledge gained," and by sharing many startups experiences, they will be providing other striving entrepreneurs with an inspiration to learn from them. So how does this contest work?
It is very simple:

Go to the Imaginovation Facebook page and click on Contest.
Then fill up a questionnaire and tell Imaginovation about the struggle and the difficulties faced on how the business got up and running successfully.
As soon as the story is submitted, it will be up for voting and the contest winner will be declared on January 31st, 2015.
The entry with the highest number of votes will receive a Brand New Website worth $5000 from Imaginovation.
If a startup business always wanted to share their business story, this is one chance that should not be missed. The icing on the cake is of course a custom website that the winner will be offered by Imaginovation at no cost. Furthermore, if the startup has their thoughts sorted out, entering this contest will not take up a lot of time. So what is the wait? Every business has an inspiring and remarkable story to tell and this contest is the best way to say it.
Imaginovation presents this offering to show the community a reflection of their successful battles and overcoming obstacles with perseverance, determination, and hard work in the business world, and proving that anything is possible.
To enter the contest, click here. Best of luck!
About Imaginovation:
Founded in 2011, Imaginovation is a premium web design and development company specializing in websites and mobile apps. Its services are backed by a highly experienced and proficient team of designers and developers who are passionate about providing results-driven solutions to clients. More information is available at http://www.imaginovation.net/.