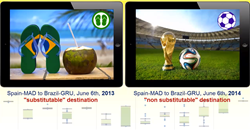 (PRWEB UK) 1 October 2014
It is estimated that an additional one million people travelled to Brazil in June to experience the sights, sounds, and atmosphere of the 2014 World Cup held in football's spiritual home for the first time since 1950. However, even before the tournament started, LATAM Airlines Chief Executive, Eduardo Ceuto, warned that his airline could lose money during the tournament.
Air Cube analysed data from air fares and actual ticket sales on two specific routes - Madrid-Sao Paulo and Santiago de Chile-Sao Paulo - to shed light on how one of the world's greatest spectacles could cost airlines money.
Find out more: link to 2 videos, 1 press release, and 1 detailed report explaining our findings.