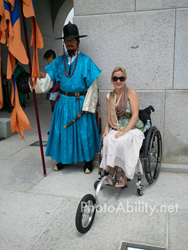 Using travel and lifestyle stock imagery that reflect real people with disabilities is paramount to sending a welcoming message of inclusion
(PRWEB) September 30, 2014
The Asia-Pacific Photography competition on Accessible Tourism is primarily a competition where the quality of the photograph and the story the image portrayed is paramount.
However, the theme of the competition is very specific in that it requires the entries to portray travelers with disabilities in a disabled friendly environment, or of people championing for the needs of disabled travelers be met so that they are able to enjoy tourism services.
CRPD article 30 States: Parties recognize the right of persons with disabilities to take part on an equal basis with others and shall take all appropriate measures to ensure that persons with disabilities enjoy access to places for culture performances or services such as theatres, museums, cinemas, libraries and tourism services and, as far as possible, enjoy access to monuments and sites of national cultural importance.
When encountering various barriers, persons with disabilities, including those who have long-term physical, mental, intellectual or sensory impairments, may be hindered from giving their full and effective participation in society on an equal basis with others.
When judging photographs, equal weight will be given to photographs of people without visible disabilities as to those with visible disabilities even though photos of visible disabilities may be more emotive. Account must also be taken of the caption and the relevance to Accessible Tourism.
Competition entrants will also have the option of submitting their images to PhotoAbility for consideration to added to the commercial library.
Submit entries to: http://icat2014.beautifulgate.org.my/programmes/photo-contest/
Organized by Beautiful Gate Foundation For The Disabled
Creative Partner: AT HOME CREATIVE
Co-organized with PhotoAbility.net
Accessible tourism has never been more relevant: One Billion people or 20% of the world's population are currently living with a disability, and with a greater aging demographic, this number will only increase. The industry is now thinking of tourism no longer solely as a luxury, but as a need that is shared by everyone and wanting to reflect this in their marketing. Using travel and lifestyle stock imagery that reflect real people with disabilities is paramount to sending a welcoming message of inclusion.
About PhotoAbility
PhotoAbility was established in March 2012 by Bill Forrester and Deborah Davis with the goal of providing high quality, unique, non-medically oriented imagery of persons with disabilities for purchase by the advertising, marketing and media sectors. The Commercial Stock Image Library specializes in positive and "Inclusive" images of people with a disability in leisure, lifestyle and travel settings.
The 2000+ inclusive images depicted in the PhotoAbility gallery are designed to impact attitudinal bias, change perception and provide motivation to eliminate and reduce social, structural and professional barriers. A wave of change reflected in popular media, and advertising can make an impact on laws and attitudes around the globe and on how many with differing abilities view themselves.
For more information and to view PhotoAbility.net's positive, inclusive Stock Images, please visit http://www.PhotoAbility.net.