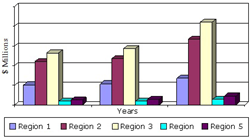 Global Market for Transformers to Reach $48.3 Billion in 2019
Wellesley, Mass. (PRWEB) October 02, 2014
BCC Research (http://www.bccresearch.com) reveals in its new report, GLOBAL MARKETS FOR TRANSFORMERS, the global transformers market is expected to grow to $48.3 billion by 2019, with a five-year compound annual growth rate (CAGR) of 7.3%. The Asia-Pacific market, the fastest-growing region of the overall market, is moving at a significant 8.1% CAGR.
Tasked with the regulation of voltage output, transformers are critical to the electricity supply chain. Globally, the demand for this technology is driven by the increasing demand for electricity, replacement of older transformers, and environmental concerns, particularly in India and China.
Indeed, the Asia-Pacific region is the largest and fastest growing segment of the global market. Valued at just $13.2 billion in 2013, the Asia-Pacific market is expected to surge to $21.1 billion by 2019. Such rapid growth is attributed to improving economic conditions and the increasing use of the region as a hub for Western markets to outsource the manufacture of their transformers.
Meanwhile, the European and North American markets are projected to grow at a healthy CAGR of 7.2% and 5%, respectively.
"The upgrading of existing networks and replacement of older transformers in Western regions offer a huge growth opportunity for the transformer market," said BCC Research energy analyst Aneesh Kumar. "This is especially the case for power and traction transformers, which have high performance properties to increase energy efficiency and reduce electricity losses. However, in the longer-term, the developing regions, including China, Brazil, India and others, will create huge opportunities for the transformer market with the increasing demand for electricity and increasing electricity production."
Increasing raw material prices and stricter environmental regulations on carbon emission levels have forced companies to focus on the development of advanced transmission technologies that will comply with current and future environmental regulations. The pressure to develop environmentally friendly transformers is increasing even in the Asia-Pacific and other developing regions.
GLOBAL MARKETS FOR TRANSFORMERS provides an overview of the global markets for transformers and related technologies. It includes analyses of global market trends, with data from 2013, estimates for 2014, and projections of CAGRs through 2019.
Editors and reporters who wish to speak with the analyst should contact Steven Cumming at steven(dot)cumming(at)bccresearch(dot)com.
About BCC Research
BCC Research publishes market research reports that make organizations worldwide more profitable with intelligence that drives smart business decisions. These reports cover today's major industrial and technology sectors, including emerging markets. For more than 40 years we've helped customers identify new market opportunities with accurate and reliable data and insight, including market sizing, forecasting, industry overviews, and identification of significant trends and key competitors. We partner with analysts who are experts in specific areas of industry and technology, providing unbiased measurements and assessments of global markets. Our clients include the top companies in industries around the world as well as universities, business schools, start-ups, consulting firms and investment companies. BCC Research is a unit of Eli Research LLC. Visit our website at http://www.bccresearch.com. Contact us: (+1) 781-489-7301 (U.S. Eastern Time), or email information(at)bccresearch(dot)com.
Data and analysis extracted from this press release must be accompanied by a statement identifying BCC Research LLC, 49-2 Walnut Park, Wellesley, MA 02481, Telephone: (+1) 781-489-7301; Email: editor(at)bccresearch(dot)com as the source and publisher. Thank you.