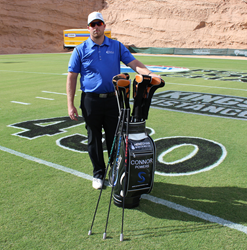 "We rarely see a player who makes such strides in his performance and advance so far in such long drive competitions as Connor has in such a short period of time." Napoleon of Catalyst says. "
Chicago, IL (PRWEB) October 01, 2014
Chicagoan Connor Powers has become one of the eight finalists in the 2014 RE/MAX Long Drive Championship and will compete live for the world title and $250,000 first-place prize on the Golf Channel in November.
Powers, a former collegiate and professional baseball player, qualified for the finals with a massive 402-yard -drive. He is a member of the newly formed Catalyst Golf Performance Long Drive team based out of Catalyst's downtown Chicago performance center.
Powers competed in three grueling days of the competition at championship qualifier at the Mesquite Sports and Event Complex. The field featured two former world champions and three returning finalists. The Finals will be televised live on Golf Channel November 4 from the Las Vegas Paiute Golf Resort.
Powers joined the Catalyst Long Drive (LD)Team and began training for the Long Drive Championship in March 2014 with the Catalyst staff using the talents of Mike Napoleon - Director of Golf Instruction, Tommy Asuma -- Head Athletic Trainer, Kyle Shay – Diet and Nutrition Advisor, Joe Sheren – Head Golf Instructor , Dave Cunningham – Head Golf Coach and April Neukam – Physical Therapist.
"I am thrilled to have advanced to the Finals of this renowned competition and represent the Catalyst LD Team. I competed against some incredibly talented people, and I can't wait to get back to Vegas, and win it," say Powers. "I have a lot of folks to thank but am especially grateful for my entire team at Catalyst who helped me come this far so quickly. I look forward to working with them in the next few weeks to get ready for the Finals."
SuperSpeed Golf Training System
"In less than seven months, Connor has taken his club speed from 133 MPH to nearly 150 MPH and reached a ball speed high of 222 MPH during the World Finals," says Napoleon. "Connor has been training with the SuperSpeed Golf training system which involves a specific set of lightweight training clubs designed to increase a golfer's club speed through overspeed training.
"We rarely see a player who makes such strides in his performance and advance so far in such competitions as Connor has in such a short period of time." Napoleon says. "It is a credit to him and his commitment to all aspects of becoming a longer driver from fitness to nutrition to training. We are ecstatic for his finish in Vegas and are eager to see him compete in the Finals in November. We will all work to get him prepared for the competition."
Connor will be appearing on Golf Channel's Morning Drive, Golf Central and Academy Shows. Connor hits the brand new Brute drive by Mutant Golf and played a 3.5 degree club head with a House of Forged Platinum shaft in XXX Flex during the competition.
Connor Powers, 26, was born in Hinsdale, IL and played high school baseball at Benet Academy in Lisle. Connor played collegiate baseball at Mississippi State University and was drafted by the Los Angeles Dodgers and the San Diego Padres in 2010 . He signed with the Padres Connor played first base and third base for the organization for three years before being released in 2013.
October is Long Drive Month on Golf Channel. Airing Oct. 14, 21 and 28, the first three episodes of the RE/MAX World Long Drive Championship will feature action from the competition in Mesquite. The live finals air on Nov. 4 at 7 PM PST.
For more information about the RE/MAX World Long Drive Championship and Long Drivers of America, visit http://www.longdrivers.com or contact Long Drivers of America directly, at 682.549.2105. For more information about Catalyst Golf Performance and the Catalyst Long Drive Team, visit http://www.catalystgolfperformance.com, or contact Mike Napoleon at 224.619.8537, michael(at)catalystgp(dot)com. For more information about SuperSpeed Golf, visit http://www.superspeedgolf.com, or contact Mike Napoleon at 224.619.8537, michael(at)catalystgp(dot)com.
(end)