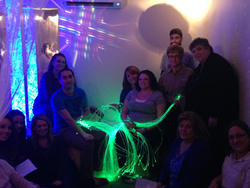 The room lets students 'listen' with their bodies. Here, students can 're-boot' so they are ready to learn.
Nutley, New Jersey (PRWEB) September 30, 2014
Colorful lights, soothing sounds, and soft textures invite students with autism at The Phoenix Center to relax, regroup, and get ready to learn.
The new Multi-Sensory Environment (MSE) offers students a neutral, non-threatening environment in which to regulate their senses and organize their behavior. Based on Snoeselen, a concept developed in the Netherlands nearly forty years ago, the room helps students with autism and other disabilities better regulate the amount of sensory stimulation they experience. The word Soneselen blends two Dutch verbs: "snuffelen," which means to seek out or explore, and "doezelen," which means to relax. The room is filled with special equipment and tools such as a vibrating platform, speakers, an LED projector, a motorized mirror ball, beanbag chairs and bubble tubes, all of which be adjusted by the student to meet his or her needs.
"The room lets students 'listen' with their bodies and their minds," said Dr. Geraldine Gibbia, co-founder and Executive Director of The Phoenix Center. "Here, they can slow down and escape from a world of too much simulation, helping them 're-boot' so they are ready to learn."
The room was made possible through a grant from the Clinical Education and Research Partnership at Seton Hall University's School of Health and Medical Sciences. The Phoenix Center is a clinical affiliate of the School of Health and Medical Sciences. Graduate students from Seton Hall University are eligible to do clinical education rotations at The Phoenix Center and will therefore benefit from the learning and training experiences the grant-funded project will provide.
The Phoenix Center staff was trained in the use of the room by Linda Messbauer, an internationally recognized expert on Multi-Sensory Environments. She was the first person in the United States to create a Snoezelen Room.
"We are proud to offer an eclectic and integrated approach to teaching all of our students," added Gibbia. "The new multi-sensory room is one more of the innovative and highly individualized tools we have to help our students learn."
ABOUT: Founded in 1991, The Phoenix Center serves 145 students from 62 districts and eight New Jersey counties. The Phoenix Center is an accredited, not-for-profit school serving the educational, behavioral and therapeutic needs of students ages five through 21 with autism, multiple disabilities, behavioral and intellectual disabilities. The Phoenix Center's customized evidence-based programs—developed for each student—are anchored by a hands-on, real-life, community-based instruction model. Students are placed at The Phoenix Center by their local school district and attend at no cost to parents.