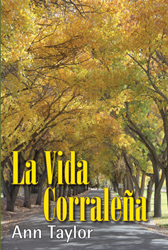 I love living here...I wrote La Vida Corraleña to help potential buyers and visitors to the village discover the beauty and distinctiveness of our community.
(PRWEB) September 30, 2014
Ann Taylor knows the rural Village of Corrales. A bucolic hide-away perched on the banks of the Rio Grande, Corrales is in a unique location nestled between two of the largest cities in New Mexico. When in the village one could easily forget that just a few miles away is one of the largest shopping centers in the Albuquerque metro. Longtime resident and Corrales realtor for more than 30 years, Ann Taylor has authored La Vida Corraleña, a "user's guide" to the Village of Corrales for potential residents, as well as current residents and visitors who want to know more about this unique and fascinating village. This book, laden with glossy photos of what makes Corrales so unique, offers information and tips about how to enjoy and live in Corrales.
Ann Taylor has lived in Corrales since 1979 and began selling properties in 1984. What she found over the years was that "city folks" who want to consider living here, are often surprised by some of the customs—and some of the realities—of living in a rural area. For example, Corrales residents draw their water, for the most part, from individual wells they must maintain; and, there are flies. "Corrales" means "corrals" in Spanish, and Corrales' corrals are filled with horses and mules. "Some people are surprised to learn that horses and a certain number of flies go together," she said. "I love living here. I love the quiet, the rural nature and I love its quirkiness," said Taylor. "I wrote La Vida Corraleña initially to help potential buyers and visitors to the village discover the beauty and distinctiveness of our community. Even some long-standing residents have found tidbits of information they didn't know."
"What a wonderful introduction to our great Village," said Corrales MainStreet president Judith Newby. "Drawing on her years of experience as a resident of Corrales, Ann has produced this 'go to' book with a wealth of information for newcomers and old timers alike."
Ann's book is available at Corrales Realty and Frontier Mart in Corrales and online at Amazon
About Ann Taylor
A Professional Realtor since 1984, Ann Taylor owns Corrales Realty in the heart of Corrales. A top-producing realtor, she holds both the CRS and Certified New Home Specialist designations. Ann is a former director of the GAAR Board of Directors and a graduate of GAAR's Leadership Program. She has served as a Sales Manager for several builder-developers and presently specializes in residential and land sales. Ann, a gregarious, personable Corraleña (resident of Corrales) divides her time between making people happy with new homes and giving back to her community.
"I find it easy to sell the Corrales lifestyle since I enjoy being a part of every phase of it," she said.
A past president and board member of Corrales MainStreet (CMS), Ann co-chaired the Quilt & Wine Fair and chaired the Economic Development Committee for a number of years. Ann helped put Corrales on the map as a desirable place to live; Corrales was named 19th out of the "100 Best Places to Live" by Money Magazine during her tenure as CMS president.
For more information, go to http://www.corralesrealty.com.