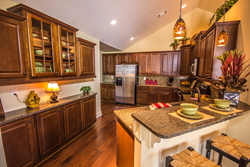 "The comparison offers surprising insight into how much it really costs to maintain an older home."
Chicago, Ill (PRWEB) October 02, 2014
For many home buyers, the move to a new home is an exciting and much-anticipated event, driven by the advantages offered by brand new, energy-efficient construction. But for others, the choice may not be so clear: According to Wilcox Communities recent findings, one of the primary reasons new home buyers hesitate before making a purchase is the concern that new construction can be extremely expensive, especially compared to the cost of staying put.
So Wilcox decided to do a little cost-comparison of its own, evaluating the costs associated with maintaining an older home to show just how cost-effective a new home purchase can be. Using data from both Angie's List and Houzz.com, the comparison offers surprising insight into how much it really costs to maintain an older home. In fact, the results clearly demonstrate that if homeowners were to upgrade an old home to meet the same levels of quality and energy efficiency offered by a newly constructed Wilcox Communities home, the costs could easily equal or exceed the cost of purchasing a new home - and in some cases, even more. Here's a quick rundown of the average costs for 2014 home upgrades:

Replace a roof -- from $8,900 for a basic asphalt shingle roof or up to $150,000 for a slate roof
Install a new hot water heater - $700 to $2,000 plus labor
Replace a furnace - $2,500 to $14,000 plus labor; heat pumps can cost as much as $25,000; cost of ductwork not included
Replace central air conditioning - $5,000 to $10,000 and up, depending upon the size of the home; ductwork not included
Install new, energy-efficient windows (cost per window) -- $150-300 for standard, double-hung units. Not including installation costs; an additional $100-200 for frame repair; larger or unusually-shaped windows can cost much more
Upgrade electrical -- about $2,000 for the service and box, not including replacement of old wiring
Upgrade an old bathroom -- About $18,000 for an average bathroom, including labor
Upgrade an outdated kitchen - $20,000 t0 $100,000 and up
Replace siding -- from $9,000 to $12,000 for basic siding; trim work typically costs extra
None of these costs takes into account the time spent waiting for repair people to arrive and complete their tasks. What's more, when upgrades are made in a piecemeal fashion, the result may not always "mesh" well with the rest of the home, making them look even more out of date.
Wilcox homes have another major feature "built in." Because they're required to meet or exceed certain energy-efficiency benchmarks, owners can expect lower operating costs, including lower heating and air-conditioning bills and lower electric bills. And unlike older homes, Wilcox newly constructed homes feature warranties that provide both protection and peace of mind.
Moving to a new home also affords buyers the chance to choose a new geographic area that offers the amenities and features that suit their lifestyles. Every Wilcox community is specifically located to offer a wide range of features to support active, involved lifestyles, and because Wilcox Communities are maintenance-free, community members have more time to enjoy those activities.
About Wilcox Communities
Wilcox Communities is a family-owned, award-winning developer of lifestyle communities with nearly 30 active communities in seven states and more communities planned for the future. Headquartered in offices based in Columbus, Ohio, and Chicago, Wilcox Communities is known for its high levels of customer service and attention to details as well as its broad range of community amenities.
To learn more about Wilcox Communities, visit their website at http://www.wilcoxcommunities.com. You can also visit them at their blog at http://www.wilcoxcommunities.blogspot.com or their Facebook page or Twitter feed.