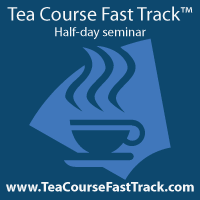 "Training is essential. It is an important and respected first step to introducing anything new – successfully," says Gastelu.
Sparta, NJ (PRWEB) September 30, 2014
One of the most widely consumed beverages in the world, tea, has become the drink of connoisseurs everywhere and respected as much as wine in every fine food establishment. Tea Course Fast Track™, a half-day in-person seminar, is a sought after training to introduce food and beverage professionals to the history, taste, and business side of tea and offers quality information for anyone wanting to learn about tea, train their staff, and incorporate it into their business immediately.
Global food and beverage professionals have recognized the importance of introducing quality tea as a beverage. It pairs well with all types of food. Steeped tea and/or tea leaves are also incorporated into cooking and baking recipes to create delicious, unique dishes and desserts. Tea is also included as an ingredient in many health, nutrition, and beauty products in addition to spa treatments. These professionals embrace tea not just as a trend but a healthful, classic, and refined beverage or ingredient that lends itself to a culinary experience that goes far beyond a seated afternoon tea commonly served in tea rooms and first class hotels.
Tea Course Fast Track™ is an in-person, half-day seminar for those who need a quick start to learning about tea and incorporating it into their business immediately. It is also a great option for earning CEUs for dietitians and health related trainers. The seminar benefits all levels of food and beverage professionals including but not limited to restaurant owners and staff, hotel food and beverage managers, chefs, mixologists, bartenders, coffee retailers, tea shop owners, beauty shops, and spas – or any type of business wishing to sell or serve tea.
The seminar includes Tea 101: History and Processing - Tea Types/Tasting Experience –Tea Uses (drinking, cooking, products) & Health Benefits –Tea Business –Tea Success –Tea Trends –Tea Resources. Value added benefits include a comparative tea tasting experience along with a take-home cupping set and a thumb drive with additional resources, eBooks, recipes, special discount offers, and more.
Tea Course Fast Track™ is a production of The Tea House Times, LLC. The half-day seminars are presented in-person by owner and publisher, Gail Gastelu. Upcoming sessions are conveniently offered during the Coffee and Tea Festival (open to public and trade) and Coffee Fest (trade only). Upcoming and future locations, dates, times, registration/ticketing details, and a full agenda are available for viewing at http://www.teacoursefasttrack.com
"Training is essential. It is an important and respected first step to introducing anything new – successfully," says Gastelu. "Over the past 11 years, I have made it my business to listen to the needs of everyone I have met while watching the trends and helping others connect the dots to add tea as a profit center to their existing business. The Tea House Times publication along with our Tea Bureau resources, Tea Course education and now Tea Course Fast Track™ are highly regarded as necessary education to get started in tea," she continued.
"Tea may sound trendy but in reality it has a very long, impressive and distinguished history and connects us to many different countries and their cultures around the world. Tea Course Fast Track™ connects you to this and the tools needed to successfully incorporate tea into any business." Sessions are produced and presented on behalf of The Tea House Times and Tea Course with partial sponsorship to include teas from SerendipiTea and cupping sets from Maryland China. Learn more at http://www.teacoursefasttrack.com
###
About The Tea House Times: The Tea House Times is a bi-monthly publication available in print or online and has been connecting businesses and consumers to all facets of the tea industry since 2003. Additional services include Tea Course continuing education, Tea Etiquette Certified online training, a Tea Bureau of industry resources, Tea News Bureau, Tea Speakers Bureau, and the latest Tea Course Fast Track. Find more information and links to all at http://www.theteahousetimes.com