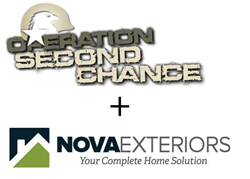 Clarksburg, MD (PRWEB) October 07, 2014
For almost 10 years Operation Second Chance has been assisting wounded veterans. Nearing their 1 millionth dollar raised to assist the soldiers and marines at Walter Reed Army Medical Center, OSC has made it their mission to assist the soldiers while they are at WRAMC as they progress back to their lives.
Liaison Cindy McGrew began visiting soliders at WRAMC, bringing them food, clothing, groceries and other things their families might need. Realizing the impact that she could make, she teamed up with Clark Wagner and the organizers of the bicycle Freedom Ride 2005 to create Operation Second Chance.
Ride Allegheny is a fundraiser of OSC in which cyclists begin riding in Pittsburgh, Pennsylvania and finish in Gaithersburg, Maryland. Beginning on October 2nd, with the cyclists traveling 320 miles to Maryland, they will finish on October 5th. A whopping 90% of the money raised for Ride Allegheny will go to Operation Second Chance, and will help the soldiers while they are at WRAMC and also assist in their transition back to duty or civilian life.
NOVA Exteriors proudly supports the men and women in service and their families and has donated to the cause and passions of Operation Second Chance. With Walter Reed Army Medical Center a mere 15 miles away from NOVA headquarters, this matter truly hits close to home, and NOVA Exteriors feels blessed to be a part of this great cause. Additionally, NOVA Exteriors founder and president, Peter Vlantis, is a longtime Montgomery county resident where the race will be culminating.
Nova Exteriors is a Montgomery County home remodeling company that helps homeowners with full replacement projects to increase energy efficiency, curb appeal, and home value. Nova Exteriors has done over 10,000 projects in the Washington DC metropolitan area since its inception in 1995. For further information please visit our website or call (703) 322-1500