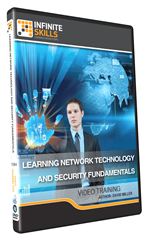 Learn Network Technology and Security Fundamentals at your own speed
(PRWEB) September 30, 2014
Software training firm Infinite Skills Inc. this week released its "Learning Network Technology and Security Fundamentals Tutorial," an advanced course designed for IT professionals or others with experience in IT who are interested in learning more about security standards and network protocols.
Network security demands knowledge of a wide range of topics, from network configuration and protocols, to transmission technologies and networking hardware.
Infinite Skills' "Learning Network Technology and Security Fundamentals" covers the primary models for setting up network security, the OSI model and the TCP/IP protocols, before taking users through all the details of securing and maintaining a network.
Learning Network Technology and Security Fundamentals Tutorial - Streaming
Course author David Miller is a well-published author and trainer on network security, most recently the CISSP Training Kit published by Microsoft. He began working as a network engineer in the early 1990s, and began to transition into the security aspects of corporate networking in the early 2000s. He is a qualified security assessor compliance auditor, with proficiencies including Security Plus, CWNA for wireless, and other certifications. Miller has worked regularly with Microsoft to produce certification exams for network security.
The course begins with an overview of the two primary models for securing networks, the OSI model and the TCP/IP Protocols model, and then looks at some essentials of transmission media and its technologies, introducing terminology, and the basic elements of networking.
Miller then goes in depth with network infrastructure, explaining routers, firewalls, DHCP, domain names, authentication, and more, covering all the points of contact and protocols in the process of transmitting data through a network.
He then looks at the particular problems with securing wireless networks, and then explores a number of basic network attacks and how to arm a network against them.
"In this course, we will focus on the core protocols for corporate and internet networks," Miller says.
"We'll look in detail at transmission technologies, and really understand the packages and frames that commute from one node to another, and we'll look in detail at networking infrastructure, the core pieces essential to a functional IT system."
Free demo videos and a full list of course contents can be found on the "Learning Network Technology and Security Fundamentals Tutorial" training page of the Infinite Skills website:
http://www.infiniteskills.com/training/learning-network-technology-and-security-fundamentals.html
Infinite Skills offers its "Learning Network Technology and Security Fundamentals Tutorial" either as a DVD or a direct download from the company website at a retail price of $99.95, or as part of its streaming subscription service available at a monthly rate of $25. All Infinite Skills titles and formats are compatible with both Mac and Windows operating systems, and shipping is available around the globe. Infinite Skills tutorials are supported by project files which correspond to examples in the videos.
About Infinite Skills Inc.
A leader in the field of software training, Infinite Skills strives to offer the highest quality training available at an affordable cost. Infinite Skills tutorials are task-oriented instructional videos, teaching complex skills by providing hands-on examples, guiding users as they carry out critical objectives. Infinite Skills offers a comprehensive range of software titles available as DVDs, digital downloads, and iPad editions, keeping with company aim of delivering professional training to customers anywhere they want to learn.