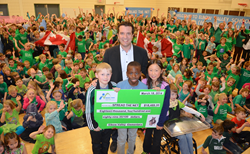 Canada (PRWEB) September 30, 2014
Rick Mercer and Plan Canada are once again bringing the fight against malaria to schools across Canada with the launch of the 8th annual Spread the Net Student Challenge.
Championed by television personality Rick Mercer since 2007, the Student Challenge invites Canadian elementary, secondary and post-secondary school students to join a friendly competition to raise funds for malaria-preventing bed nets. The top fundraising school in each category will receive a visit from Mercer and appear on an episode of the Rick Mercer Report.
"Every minute a child in Africa dies from malaria, a preventable disease transmitted to humans through the bite of an infected mosquito," says Mercer. "Malaria claims the lives of over 620,000 people each year. But the good news is there's a solution: an insecticide-treated bed net, which is the most effective way of preventing the disease. I challenge Canadian students to make a difference by raising funds and helping to save lives."
To date, over 600 schools across Canada have participated in the Spread the Net Student Challenge, raising more than $1.2 million for life-saving bed nets. Spread the Net has protected the lives of more than 7.2 million people by delivering over 2.5 million malaria-preventing bed nets to families in the most severely affected regions in Africa.
"Young Canadians are increasingly becoming engaged and taking action on social justice issues," says Rosemary McCarney, Plan Canada President and CEO. "Plan's Spread the Net Student Challenge is a fun way for students to show their support and spread awareness about issues faced by children and their families in the developing world. We couldn't be prouder of our partnership with Rick and the Rick Mercer Report on Plan's Spread the Net Student Challenge and of all the students across Canada who have taken up the fight against malaria."
Plan Canada's Spread the Net Student Challenge launches September 30, 2014 and runs until February 28, 2015. Schools can register at any time before February 15 at spreadthenet.ca
About Plan and the Because I am a Girl initiative
Founded in 1937, Plan is one of the world's oldest and largest international development agencies, working in partnership with millions of people around the world to end global poverty. Not for profit, independent and inclusive of all faiths and cultures, Plan has only one agenda: to improve the lives of children. Because I am a Girl is Plan's global initiative to end gender inequality, promote girls' rights and lift millions of girls – and everyone around them – out of poverty. Visit plancanada.ca and becauseiamagirl.ca for more information.
About Spread the Net
Spread the Net is a Plan Canada initiative designed to educate and inspire Canadians to help end preventable malaria deaths by raising funds and awareness to support the purchase and distribution of bed nets, along with training on their use, to children and their families in Africa. Spread the Net was founded in 2006 by Belinda Stronach, P.C., and Rick Mercer, becoming an initiative of Plan Canada in July 2013. Visit spreadthenet.ca for more information.