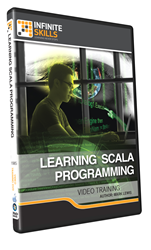 Learn Scala Programming at your own pace
(PRWEB) October 01, 2014
Software training firm Infinite Skills Inc. last week introduced its "Learning Scala Programming Tutorial," a course designed for experienced programmers interested in learning this dynamic language that allows full integration with Java libraries with a more concise and functional language.
Scala is an object-functional programming and scripting language for general software applications. Its architecture allows programs in Scala to be concise and considerably smaller than those written in most other programming languages. Scala is highly compatible with Java, allowing access to Java libraries. However, unlike Java, Scala possesses many features of functional programming such as Standard ML.
Infinite Skills' "Learning Scala Programming Tutorial" provides an introduction to Scala functionality, introducing programmers to its fundamental approach and essential characteristics.
Learning Scala Programming Tutorial - Streaming
Course author Mark Lewis is a professor at Trinity University. He holds a doctorate in astrophysics, as well as a masters in computer science. His research includes large scale numerical simulations, specifically of planetary ring systems, and he has published multiple academic papers on the findings of his application of computer science to astrophysical phenomena. The Scala language has become increasingly important to his work based on its flexibility and compatibility with Java.
Following an introduction, preparing students for the course, Lewis begins with an introductory worksheet as he covers all the essentials, the type hierarchy, "if" and "match" expressions, recursion and nesting, sequences, and more, as he explains the non-object oriented aspects and basic syntax of Scala.
He then begins to incorporate the object-oriented features, explaining how to integrate object traits in app building, working with imperative text, functional solutions, special methods and names, and more.
The course concludes with chapters on testing, working with XML, and looking at parallelism and working with the Akka library.
"This course is designed to get programmers up to date quickly with how to use Scala programming language," Lewis says.
"My interest in Scala took off because it provides access to all the Java languages that I was familiar with that are so powerful and useful, but it also has the fun and interesting aspects from other languages such as Standard ML."
Free demo videos and a full list of course contents can be found on the "Learning Scala Programming Tutorial" training page of the Infinite Skills website:
http://www.infiniteskills.com/training/learning-scala-programming.html
Infinite Skills offers its "Learning Scala Programming Tutorial" either as a DVD or a direct download from the company website at a retail price of $49.95, or as part of its subscription streaming service at a rate of $25 per month. All Infinite Skills titles and formats are compatible with both Mac and Windows operating systems, and shipping is available around the globe. Infinite Skills tutorials are supported by project files which correspond to examples in the videos.
About Infinite Skills Inc.
A leader in the field of software training, Infinite Skills strives to offer the highest quality training available at an affordable cost. Infinite Skills tutorials are task-oriented instructional videos, teaching complex skills by providing hands-on examples, guiding users as they carry out critical objectives. Infinite Skills offers a comprehensive range of software titles available as DVDs, digital downloads, and iPad editions, keeping with company aim of delivering professional training to customers anywhere they want to learn.