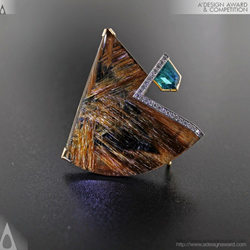 Como, Italy (PRWEB) September 30, 2014
A' International Design Award and Competition is pleased to announce that the jewelry design project "The Sunshine" by Victor Syrnev won the notable Golden A' Design Award in Jewelry, Eyewear and Watch Design Competition.
Details of The Sunshine
Victor A. Syrnev, the creative mind behind the award winning jewelry design work "The Sunshine" said "The primary feature of this jewelry is the complexity of the large stone which was fit into an almost invisible (air) frame. The stone itself is held by two, unobtrusive fixtures and a thin plate strewn with diamonds." To learn more visit: http://www.adesignaward.com/design.php?ID=29217 and interview with the designer Victor A. Syrnev is also available at http://www.design-interviews.com/design.php?ID=29217
Design Team for The Sunshine
The Sunshine was made by Victor Syrnev (Designer), and Munsteiner Bernd (Stone cutting).
The Golden A' Design Award
The Golden A' Design Award is a prestigious design award given to top 3% designs that demonstrate the highest levels of aesthetics and utility. The A' Jewelry Design Award entries are voted by an expert jury panel of international editors, scholars and professionals following predetermined evaluation criteria. Laureates are given an all inclusive design prize to celebrate their success. The A' Design Prize includes extensive PR and publicity services in addition to the design excellence certificate, good design mark as well as the award trophy and yearbook.
About A' Design Award & Competition
Established in 2009 in order to create a global awareness for good design practices and principles worldwide, the A' Design Award & Competition have been highlighting the very best design work from all countries in all categories. The mission of the A' Design Awards is to push designers, artists, architects and enterprises worldwide to come up with superior designs and projects that benefit society. Learn more about the A' Design Awards at http://www.whatisadesignaward.com