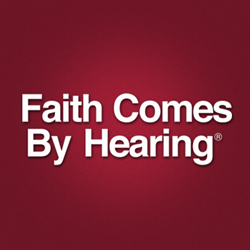 ...we have one purpose – to get God's Word to every person.
Albuquerque, N.M. (PRWEB) September 30, 2014
Faith Comes By Hearing recently added four languages to their expanding catalog of recorded Scripture. Now at 844 languages, these recordings as a whole represent a potential outreach to more than 5.7 billion people in 190 countries, which equates to over 80% of the world's population.
The new releases are:

Boko – Benin
North Karelian – Russia
Brooke's Point Palawano – Philippines
East Slovak Romani – Czech Republic
Of the new languages released, East Slovak Romani is the largest people group with about 490,000 speakers primarily in the Czech Republic, while the smallest is Brooke's Point Palawano, spoken by about 14,000 people in the Philippines. Combined, these four releases represent almost 670,000 people who now have recorded Scripture available in their heart languages.
Faith Comes By Hearing (FCBH) remains committed to the mission of making God's Word freely available to everyone and is encouraged that supporters continue to help make this possible. The ministry is also grateful to their many partners who share a passion for Great Commission work. For this month's releases, they are: Institute for Bible Translation, SIM, The Word for the World and Wycliffe Bible Translators.
"Whether it be our talented and dedicated staff, our generous donors, or ministry partners from all over the world, we have one purpose – to get God's Word to every person," states Jerry Jackson, FCBH founder and president.
Jackson has seen the growth of a small tape lending library established in 1972 to what is now the world's largest resource of digital Bible content. Collectively known as the Digital Bible Platform, Faith Comes By Hearing offers free access to this digital collection of Scripture via downloads, podcasts, Internet radio and satellite TV, while the Bible.is and Deaf Bible apps for mobile devices offer access to God's Word right from the palm of your hand. Approved developers and ministry partners can also have free access to the content on the Digital Bible Platform to incorporate into their apps, software and websites.
For those areas that do not yet have regular access to the Internet or mobile devices, Faith Comes By Hearing continues to reach out by providing Audio Bibles on solar-powered Proclaimers for listening groups. More than 375,000 Proclaimers are literally proclaiming the Gospel around the world.
The ministry's goal is to record and provide access to the Word of God in every translated language, making the fulfillment of the Great Commission a reality in this generation.