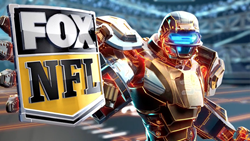 After working with Creative Works London to develop the graphics for the exterior monitors at its sprawling Times Square set during Super Bowl week, Fox opted to bring in the firm for the graphics redesign. Gary Hartley, EVP/Creative Director at Fox
London, UK (PRWEB) October 02, 2014
Creative Works London are thrilled to announce the debut of our NFL graphics package for Fox Sports USA and Sky Sports UK and the conclusion of a major music visual graphics project for Guns N' Roses that have been worked on over the past few months.
Creative Works has had an exciting year. Firstly CWL deployed graphics package for FOX Sports on the Times Square NYC Superbowl set, then produced Live Show Graphics for the Guns n' Roses South American Tour as well as their Las Vegas Residency at The Joint, Hard Rock Hotel thereafter we deployed a full NFL TV package rebrand for FOX Sports 2014-2015 season.
At the beginning of January, CWL helped FOX Sports and PRG with their Superbowl project in Times Square NYC by producing a variety of creative screen graphics for their 'world record' Times Square structure. Working closely with FOX Sports, Jeff Hall Design Group, PRG and PRG Nocturne, CWL created branded motion graphics and also helped co-ordinate a live-show element around an animated Cleatus statue whilst rebranding the iconic graphical Cleatus the Fox Sports Robot ™ itself.
Swiftly following that CWL were approached by Guns N' Roses management to create new motion content for the Guns N' Roses live show off the back of the You Could be Mine video (https://vimeo.com/61876246) and Bumblefoot - Glad To Be Here (https://vimeo.com/53529294) spots from the previous Las Vegas residency and Australian, North American, South American and Far and Middle East tours.
The band's brief to CWL was simple; 'We want to revamp our stage graphics to better reflect the bands attitude…' so CWL began with their South American tour graphics, creating hundreds of bespoke animation clips and a fresh new look with a modular animation system to bring infinite variations to their live show.
Using the South American tour as a starting point, the team transitioned this system into the Las Vegas Residency at The Joint, Hard Rock Hotel, collaborating with the Band's production manager, Tom Mayhue and video/lighting director Greg Shipley of Greg Shipley Designs to implement the package.
May through to August saw Creative Works develop the new look for FOX Sports NFL, the channel's corner-stone sport property. With over 20 million viewers per game, this new creative is presently one of the most visible elements on American Sports TV. Over the course of 3 months Creative Works delivered, across the Atlantic, several hundred elements ranging from the Opener through to Wipes, injecting a new vibrancy to a package that required a fresh image.
Quoted from a Sports Video Group press release 'After working with Creative Works London to develop the graphics for the exterior monitors at its sprawling Times Square set during Super Bowl week, Fox opted to bring in the firm for the graphics redesign. Gary Hartley, EVP/Creative Director at Fox Channels Group, believes that, having not worked on American football in the past, Creative Works was able to give the package a fresh and non-traditional look.'
Crossing back over the Atlantic, Paul Fuller, creative director at SKY Sports, Fox's sister company, brought the team on board to adapt the creative to their branding, which saw us produce a further set of elements for the NFL on SKY Sports program, also currently on air.
All in all, is been a transitional and exhilarating year for the fledging branding company who are continuing to work with American and International clients across a diverse range of sectors. Rock n' roll into 2015…
Links:
http://www.foxsports.com/nfl
http://sportsvideo.org/main/blog/2014/09/2014-nfl-preview-fox-sports-looks-to-build-on-super-bowl-momentum/?utm_source=SVG+Newsletter&utm_campaign=d77c5ced33-my_google_analytics_key&utm_medium=email&utm_term=0_5ccb082d23-d77c5ced33-77165157
http://www.prg.com/about-us/news/prg-builds-the-fox-sports-times-square-super-bowl-broadcast-studio/
https://vimeo.com/61876246 - Guns N' Roses - You could be mine
https://vimeo.com/53529294 - Bumblefoot - Glad to Be Here
http://www.creativeworkslondon.com for additional information and case studies.
Creative Works, an international multi-disciplinary brand agency specialising in cross media projects. We thrive on creating materials that bring ideas to life in an accessible and imaginative way
Creative Works is headed up by Jeremy Leeor and Dan Potter and are currently based in London, UK.
Creative Works
93-95 Borough High St, London,UK, SE1 1NL Tel: +44 20 3117 0830
jleeor(at)cworkslon(dot)com
dpotter(at)cworkslon(dot)com